A Year of Rethinking Education and Training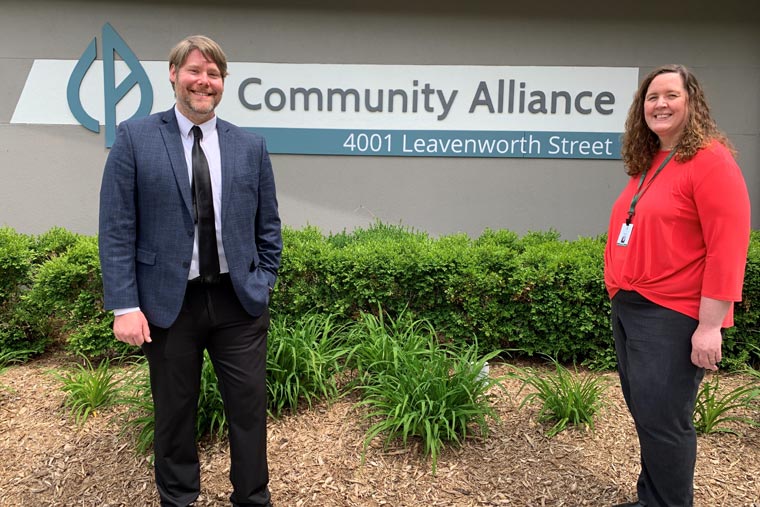 Staying open, staying open minded
For Stacy Ring, Community Alliance's Manager of Behavioral Health Education and Training, developing a program for student interns in the middle of a pandemic represented a challenge unlike any she had faced before, but one that she confronted with an open mind and creativity. "We actually never discontinued any onsite activities with students, even though some of the schools pulled students from field experiences," Ring explained. "We were able to work with students throughout the early days of the pandemic, when faced with gathering restrictions and social distancing and mask mandates. And when we had to temporarily close our Day Rehabilitation Program, we were able to help student interns find activities within our broad range of services and programs where they were still able to collect the hours and experiences they needed."
"Overall, we were still able to support educational experiences for more than 250 students over the past year from 13 different schools and academic institutions," Ring reported. "This included nursing, counseling, social work and ancillary health fields along with medical students and residents."
Understanding the possibilities made all the difference
After nearly 28 years in different roles at Community Alliance, Ring explained that she had taken on the role of Behavioral Health Education and Training six months before the pandemic started. "It was kind of trial by fire figuring things out," Ring observed. "But I think it was actually beneficial for me to be in the role because I have worked in almost every program myself as an employee."
Ring coordinated an internship program within the agency's Residential Rehabilitation program for Jameson Bock, a student in the Master's in Clinical Mental Health Counseling program at the University of Nebraska – Kearney, who's also double majoring in School Counseling. Bock is an Omaha native and a non-traditional student who is raising a young family and is switching careers during a pandemic. "Last year I'd say that my experience was relatively unique in that as soon as I entered into the program at the residential site, clients were pretty much secluded in their environment because of the pandemic. Their opportunities to have activities and engagement outside of the home became very limited," Bock noted. "The unique component to residential rehabilitation is, yes, it is a rehabilitation setting, but it's a very delicate balance of both home and a place to conduct therapy. I would often leave Residential Rehab and I'd feel just as exhausted after being there for a couple hours as I did when I spent a full day in a classroom. It's an experience that takes a lot of patience, grace and fortitude."
A need for creativity and flexibility
Ring explained that the pandemic not only made it necessary to be creative and flexible with scheduling activities for Bock's internship, but with treatment interventions for clients. "It was kind of the perfect yet most challenging training ground for having to practice as a counselor or a clinician," Ring offered. "It really takes a position of unconditional positive regard because everybody was going through so much. Oftentimes, you're walking in and you're not seeing anything close to the best version of the person because of all the stress that they're under plus their mental health issues. It really takes being understanding, absolutely accepting and positively engaging with the client – in whichever state you found them that day. They could really be struggling with the isolation and maybe irritable, feeling caged or frustrated with the people that are around them – because they were triggering each other with their stress levels sometimes."
A focus on therapeutic activities
"I don't care whether you're at home or in a residential rehab facility," Bock added, "last year people went back to their typical coping mechanisms. So, there was an influx of lots of externalizing behaviors, internalizing behaviors and substance use."
Ring and Bock both explained that while talk therapy was important, activities played a large part of therapeutic intervention in isolation – journaling, stretching and breathing exercises. "We took these giant inflatable dice outside. Everybody rolled them and answered questions about themselves that corresponded to the numbers they rolled," Bock continued. "They answered questions like what's the favorite vacation you've ever taken or your favorite food or the thing about your personality that you like best."
Recovering in quarantine
"In some cases, clients who tested positive for the virus needed to quarantine in their rooms. They'd have food and meds brought to their rooms. The experience became even more isolating," Bock noted. "And after a period of quarantine or isolation would pass, and they could come back out with their peers, we found that after they spent so much time in their room, they had become more comfortable in their room. It was kind of like atrophy almost, and they didn't have as much energy or motivation as they did before."
Different strokes for different clients
Ring explained that interns were encouraged to deal with clients in a case-by-case scenario. "Look at what that tells you as far as their level and kind of motivation and the energy, the stamina that they have and how do we build back from that," Ring asserted. "Students got very creative in those interventions about how to draw this person out. Having them sit in a chair and talk to us for an hour wasn't going to be the way to do it. They were going to probably fall asleep." She explained that getting clients themselves involved in a simple, hands-on activity was what worked – an activity like having clients help make Rice Krispy treats or a craft project.
"I think in so many ways Jameson had mentioned, dealing with the fatigue and burnout that both staff and students experienced, it really challenged students and staff to step up their game and really to think outside the box," Ring added. She went on to explain that interns were able to schedule task-oriented activities that allowed clients to assign organizers, set daily and weekly goals and determine tactics that helped clients work toward achieving their goals. For example, interns developed a project where clients designed their own visual organizer – aimed at establishing ways to motivate themselves by reinforcing positive action steps. Project activities focused on what clients accomplished, rather than simply checking items off on a to-do list.
At another of Community Alliance's residential facilities, a student intern helped teach residents to bake bread. "She talked about the value of getting your hands in there, kneading the dough, how that was very relaxing and therapeutic," Ring detailed. "And she talked about the inherent payoff of having this wonderful, fresh-baked bread and the delicious smell in the house."
Both Ring and Bock agreed, there was so much they had learned within the past year that they would incorporate into counseling, therapy and training in the years to come. "It's been a fun year," Ring offered. "I mean, honestly, aside from the whole pandemic piece, I like to be creative and so it's been fun to pretend like there isn't a box."
Help is Within Reach
At Community Alliance, we offer a full range of integrated health services including primary and psychiatric care, mental health and substance use counseling, rehabilitation and employment services, supportive housing, community, family and peer supports, and more.
RESOURCES:
Psychiatric and Counseling Services
Safe Harbor Peer Crisis Services