Expanding Recruitment Efforts to Attract the Right Candidates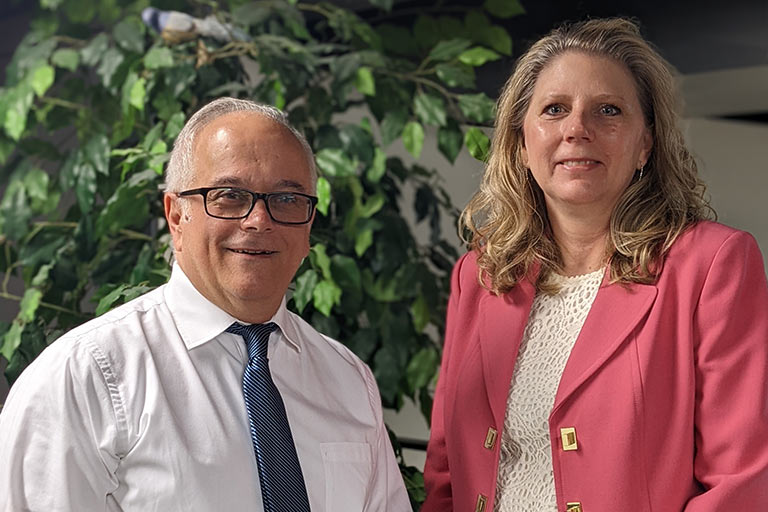 From Left to Right – Mike Losole, Community Alliance Recruiter and Debbie Kohl, Community Alliance Human Resources Director
The current job market is unlike anything we've seen in recent years, particularly in the mental health field. Qualified candidates have more options than ever when finding the right fit for their skills, goals, and talents. At Community Alliance, we have always taken recruitment seriously, but now more than ever, we are building our offerings to appeal to the most qualified and passionate individuals.
The positive outcomes of our services rests heavily on the commitment and dedication of our team. Under the leadership of Debbie Kohl, the Community Alliance Human Resources Director, and Mike Losole, Community Alliance Recruiter, the organization is looking to fill open positions with individuals who have a passion and calling for helping the greater Omaha community.
"Working at Community Alliance, it's hard work. It's not easy. But it's rewarding for our employees. It's about fulfilling a passion and reaching their potential," said Debbie Kohl. With many open positions, Community Alliance is actively seeking individuals interested in mental health careers who have experience with individuals living with mental illness, in order to fill vital roles within the organization.
The core of every position at Community Alliance remains the same. The goal is for employees to help the individuals served to find their purpose and where they belong in the community and within society. This core job requirement applies to every position, from residential rehabilitation staff members to community support specialists. And as a result, employees tend to feel a greater sense of purpose themselves.
Culture and Core Values at Community Alliance
Finding a job isn't difficult right now, but finding the right job can be. Community Alliance has developed a culture that is unique to their organization. Its focus is on the shared values between employees and the organization. Values such as dignity and respect, welcoming, and inclusivity. "Everybody is exceptionally kind and truly wants to make a difference. They are here for the right reasons," explained Debbie.
At Community Alliance, respect for one another and treatment with dignity are intrinsic characteristics of who they are and how they work. They have a diverse workforce that recognizes and respects the unique needs, worth, customs, physical abilities, beliefs, and values of individuals.
Sometimes all it takes is seeing the facilities, taking a tour, and truly experiencing the Community Alliance difference to know it's the best fit for someone's career. "Once potential candidates tour our facility and see the good we are doing, they realize it's so much more than they ever imagined we did. And for some of them, that's pretty exciting," said Mike.
Other benefits of being a Community Alliance employee include:
Comprehensive benefits including health, dental, disability and paid time off
401(k) retirement plan
Tuition reimbursement program
Flexible spending accounts
Extensive hands-on training under the supervision of our clinical team
Work and Wellbeing Initiative that is focused on employees
Even with all the benefits offered by Community Alliance, Mike believes it's something else motivating people to work at Community Alliance. "In today's world, people want to feel good about where they work, and they want something positive. This is a place where you can feel good about what you've done and what you've accomplished when you go home. I think that's important."
Find Out if Community Alliance is the Right Fit for Your Career in the Mental Health Field
Community Alliance is eager to hire qualified individuals for a growing number of open positions as the agency continues to expand services. If everything we have to offer sounds appealing to you, we invite you to reach out. In many cases, we can provide same-day interviews.
Community Alliance will also be hosting open interviews for interested candidates on July 14th from noon to 4:00 pm and on July 28th from 9:00 am to 1:00 pm.
Meet our team, take a tour of our facilities, and find out if our culture fits what you want for your career in mental health care.
Help is Within Reach
Community Alliance offers a full range of integrated health care services, including primary and psychiatric care, mental health and substance use counseling, rehabilitation and employment services, supportive housing, community, family and peer support, and more.