Community Alliance Expands Family Education Services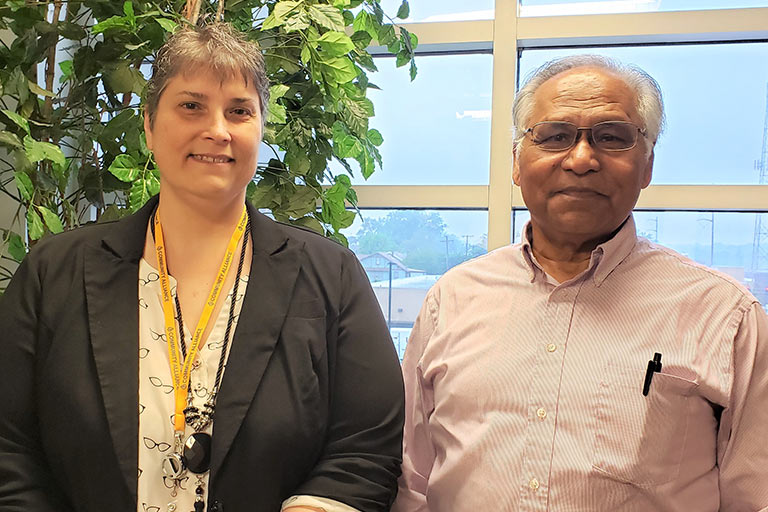 From Left to Right: Jill Davis and Jai Sookram
Community Alliance has long recognized that the heaviest burden of caring for individuals with mental illness often falls on the family. Families experience many challenges – emotional, financial, social and more – in serving as long-term caregivers for their loved one. For years, we have sought to support these caregivers through our Family Education and Support services. Now, with the help of grant funding from Medica Foundation and the City of Omaha, we are able to expand our family educational services and reach more in our community.
Training and Support to Help Loved Ones
Community Alliance's Family Education Services provides training and support to cope with the multidimensional challenges faced by families of persons with mental illnesses and co-occurring disorders. Our approach to skill training and coping strategies adheres to evidence-based interventions with the families we serve. We follow the Family Psychoeducation Model advocated by the federal Substance Abuse Mental Health Services Administration's (SAMHSA) Center for Mental Health Services in providing individual and group services. In addition, we also utilize the National Alliance on Mental Illness (NAMI) evidence-based curriculum in offering an 8-week Family-to-Family educational program where people receive information and also meet others who are traveling a similar road with a loved one. NAMI-Nebraska and NAMI-Omaha, the state and local NAMI chapters, are integral in reaching out to assist more individuals in the community. The program also benefits from the generous support of several dedicated volunteers who have completed the classes themselves.
Both individual and group family educational service classes address a wide range of areas to help families help their loved ones. These include:
How mental health conditions impact the entire family
Information on mental illness, current medications, side effects, and strategies for medication adherence
Effective problem-solving and communication skills
Strategies for handling crisis and relapse
The importance of self-care while also caring for others
Local resources and support services
Goal of Family Education and Support Services
Our goal with the family education services is to help the person living with a major mental illness while, at the same time providing support for the friends and family members who experience it with them. For the person with mental illness, these services can help in preventing relapse and promoting community stability. This includes strategies to mitigate crisis situations that require professional intervention via law enforcement, crisis teams, or emergency room visits. Those closest to the individual are provided with practical information about mental illness along with coping skills and useful tools that will help them deal with their loved one's psychiatric disorder.
Family and friends who complete the program report feeling less isolated and more empathetic and responsive to their loved one. They also describe themselves as coping much better and feeling newly empowered to advocate for their relative or friend.
Community Support Allows Program to Double Its Impact
With the grant support provided by Medica Foundation and the City of Omaha, Community Alliance is expanding its family education and support services, adding an additional staff position to meet with individuals and help facilitate the Family-to-Family classes. Jill Davis has joined current Family Education Manager Jai Sookram. They will collaborate to expand outreach to family members across the community, with the goal of doubling the number of individuals served over the next 12 months.
Individual, group and Family-to-Family classes are offered at no cost to participants. For more information, please call Community Alliance at 402-341-5128 and ask to speak to one of our Family Education Facilitators.
Help is Within Reach
Community Alliance offers a full range of integrated health care services including primary and psychiatric care, mental health and substance use counseling, rehabilitation and employment services, supportive housing, community, family, and peer support, and more.