Value Fit and Depth of Experience To Refresh Employee Recruitment at Community Alliance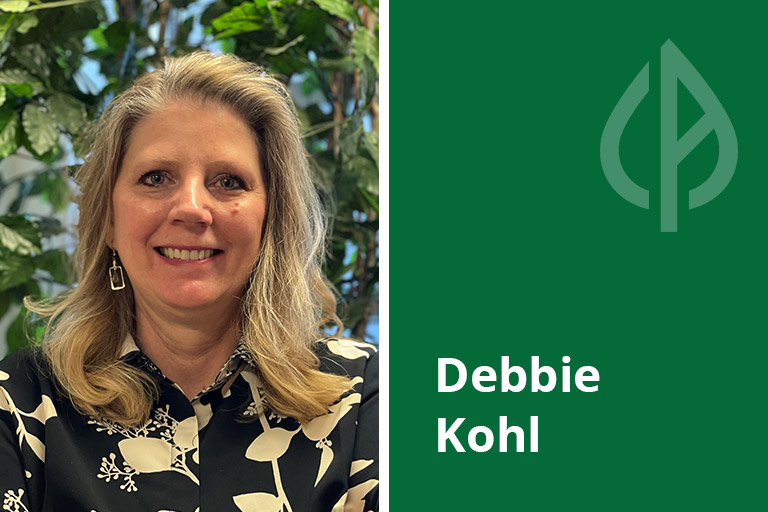 As Community Alliance focuses on its mission to actively grow our staff to better serve our community, we are excited to have Debbie Kohl, BS, PHR, SHRM-CP, alongside us to lead the charge. Her more than 28 years of experience in human resources brings a fresh perspective to our recruitment efforts, and we are thrilled to watch her shine in this new role.
Why is Debbie the right fit for our recruitment efforts at Community Alliance? Her passion is to work with a dynamic group of people who focus their special efforts around a common mission. Through the interview process, Debbie experienced an alignment between Community Alliance's values and her own, specifically the outcomes stated on our website when she commented, "the outcomes are purposeful, they talked about the individual." The "fit" is evident as she integrates work and values day in and day out at our integrated health care organization.
"It really comes down to the right fit for the organization and me. I need to feel connected to the mission and part of the success. Human Resources is my profession and I am thrilled to be able to add value to the mission of Community Alliance," said Debbie. "I also love the people part of it all. The individuals are committed to the growth of a non-profit like Community Alliance. I say successful growth comes in two ways – it comes in the traditional vertical sense, but also horizontally, and I want to see our team grow in both of these directions."
Debbie's passionate advocacy of Community Alliance and our mission to support person-centered care is what makes us optimistic about our ability to hire more staff members who will best serve our community. "Once I started to understand the mission and beliefs, I couldn't wait to go tell everybody how blessed I am to be able to work for an organization that can give back to the community while also caring so deeply for their employees. It shows in how they communicate with them, the benefits they provide, the opportunities to make a difference, and the unlimited growth potential."
Our Ongoing Employee Recruitment Efforts
Mental health is still often an overlooked but necessary component of wellness. We understand the importance of starting conversations early and often. Many qualified individuals within our area may not even know what Community Alliance is and what we offer our community.
When someone joins our team, they join a dynamic group of individuals who welcome their knowledge, skills, and contributions in an environment that fully embraces a culture of hope and recovery for people with mental illness. With more than 200 dedicated in-house professionals and volunteers, we seek to take positive actions that lead to positive outcomes.
Under the guidance of Debbie, Community Alliance is continuing to ramp up efforts to fill various positions throughout our organization, like the following:
Substance Use Specialist
Behavioral Health Therapist (dually credentialed, LMHP, LIMHP, LADC welcomed)
Psychiatric Nurse Practitioner
Licensed Family Education Specialist (PLMHP, LMHP)
Bachelors level degree for Case Managers for Veterans, Community Support, Day Rehabilitation, Employment Training Specialist and Residential Specialists.
Licensed Day Rehabilitation Specialist
Health & Wellness Specialist
Supervisor, Day Rehabilitation Services (PLMHP, LMHP)
Supervisor, Residential Rehabilitation (PLMHP, LMHP)
It's our goal to spread the word through our existing employees, volunteers, clients and their family members who have seen what we are capable of and who we are and what we do. We could be providing our community with even more beneficial programs and services, but we need help from qualified individuals looking to make a difference in our community, and grow personally and professionally.
"Everybody that I know has somehow been affected by mental health," said Debbie when speaking about Community Alliance's recruitment efforts. "Going out there and explaining that there are resources available at Community Alliance is invigorating! We want people struggling with mental health issues to know that there are people who deeply and passionately care about them, and that our culture is to make a difference every day." 
Debbie believes that what sets Community Alliance apart from other organizations is simple. "It all starts with one connection – it could take ten days or ten years, and Community Alliance is going to stay committed to making that difference happen. What really inspires me is the outcome. Community Alliance is committed to getting a positive outcome for every individual and family. It's truly a passion shared by every member of the organization."
Who We Need to Further Our Mission
To continue positively impacting the individuals who use our integrated health care services, we need to expand our staff through specialty positions. We are looking to hire veterans to serve other veterans. We are looking to hire children and youth care coordinators to help us expand our offerings to support younger generations. We want to best serve every individual who walks through our doors, and the only way to do that is with the right team members who are committed to helping these individuals achieve positive results.
Once our new hires understand and embrace Community Alliance's values and mission, we can continue to push our message forward to the local community and the individuals we serve. At Community Alliance, we are proud of our impact in the lives we support and the gratification our employees experience through such meaningful work. Additionally, our employees are rewarded through competitive compensation and a comprehensive benefits plan, including significant Community Alliance contributions toward group health, dental, and disability insurance, paid time off, flexible spending accounts, and a 401(k) retirement plan.
Alongside all the traditional benefits of working at Community Alliance, new hires also get the unique privilege of being part of a person-centered care team of like-minded individuals who are all working towards the same thing: pursuing positive, measurable results for those we serve and for our community.
We're Hiring
The Community Alliance team is growing, and we need dedicated professionals like yourself to help us continue striving towards positive outcomes for the people we serve. Apply today, through our website, for available non-profit positions or by calling us at 402.341.5128. If you believe in our mission of providing person-centered care as much as we do, please consider applying.