Bike with Mike: Healing, Hope, and Inspiring Awareness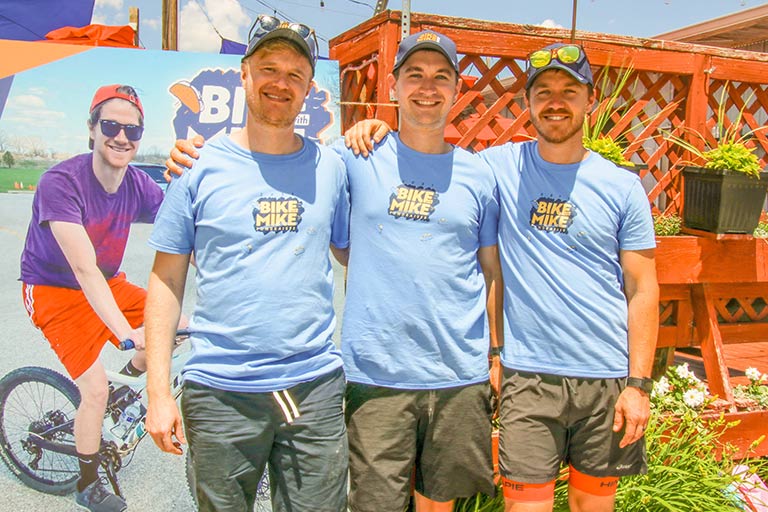 Left to right:  Joe Kutilek, Hank Kutilek, Tom Kutilek
After the success of last year's inaugural event, the Kutilek family (Steve, Anne, and Mike's three brothers, Joe, Tom, and Hank) are anxious to make this year's Bike with Mike event bigger and better for the Omaha community. It was a surprise to everyone involved how quickly the community rallied around Bike with Mike to support its mission of raising awareness of the mental health programs, services, and resources at Community Alliance.
The one-day annual event was born out of the family's desire to heal and help after losing their son and brother, Mike, to mental illness. After battling the progressive decline of schizophrenia, he took his own life in May, 2020, at the age of 29.
Having dealt firsthand with the frustrations of limited access to potentially life-saving resources and knowledge, the family decided to take action. By partnering with Community Alliance, they used the Bike with Mike event to help their family heal while also raising awareness for mental health issues within their community.
"The big message of this event is to break down the stigma – and help people understand that it's okay not to feel okay. There's an answer. There's a solution. There's a place for somebody struggling to go," said Mike's dad, Steve. "Immediately after our event, we were contacted by probably a dozen people who were either part of the event or learned about our event from family and friends. They went directly to Community Alliance now knowing what CA did and the services they had to offer, and said they needed help."
Turning Tragedy into Healing
Since the Kutilek family is no stranger to tragedy, they saw the Bike with Mike event as a way for their family to heal. They went through the entire journey with Mike, from his initial issues of depression and anxiety, to his first episode of psychosis and other aspects of mental illness.
"I thought I had a lot of experience with mental illness and what resources are available and what to do, but it was a huge wake-up call for us to be in that situation with somebody. And then, actually having to take the steps and find out what is available for that person and going along each of those steps, especially when the person's going through something like schizophrenia, a mental break, or psychosis; it's really hard," said Mike's brother, Tom.
Through Bike with Mike, the entire family could find a path to healing that not all families get to experience. Their tragedy became the fuel to use their newfound knowledge about Community Alliance to help so many others experiencing the same things find the support they need.
"We're here to bring awareness to mental health issues. It's actually a very normal thing to struggle with mental illness, and it's okay to talk about it. Raising money and everything is awesome, but our main goal is just to create a space where it's okay to talk about mental health and start to shed light on what is available, what's not, and how we continue to advance resources for mental illness," Tom shared.
Why Community Alliance?
When the Kutilek family learned about everything Community Alliance offers to the Omaha community, they knew it was a good fit for their fundraising efforts. "What's great about Community Alliance is they're that niche where they provide outpatient services, provide programs for both the patient and the family, and offer counseling where you don't have to be admitted as an inpatient," Steve explained. "I don't know if that would've changed anything for Mike, but it would definitely have helped fill in those gaps between the times when there was a lack of support for him coming out of the hospital and then waiting to meet with a counselor."
At Community Alliance, integrated health care is person- and family-centered care that supports mental and physical health in a way that connects both. It's an approach that makes a greater level of healing and wellness possible, leading toward sustained recovery, purpose, and quality of life. By raising awareness and funds for Community Alliance, Bike with Mike can help Community Alliance carry out its mission of providing valuable resources to the greater Omaha community.
Bike with Mike 2022 Event Details
Grab your bike or your best walking shoes and join us on the Wabash Trace "Taco Ride" (about 10 miles each way by bike).
Walkers can drive to Mineola and walk as much of the trail as they please!
All proceeds will directly support the integrated health care services provided by Community Alliance.
When: Saturday, June 4, 2022.
Check-In & Start: 9-10am
Location: Wabash Trace Nature Trail located south of Lewis Central Middle School, Council Bluffs, Iowa
Alternative Parking Location: Lewis Central Middle School, Council Bluffs, Iowa
Tacos, Program, and Bike Raffle: Tobey Jacks in Mineola, Iowa, beginning at approximately 11:30 am
Help is Within Reach
Community Alliance offers a full range of integrated health care services including primary and psychiatric care, mental health and substance use counseling, rehabilitation and employment services, supportive housing, community, family and peer support, and more.