Community Alliance Announces Plans for New Program Headquarters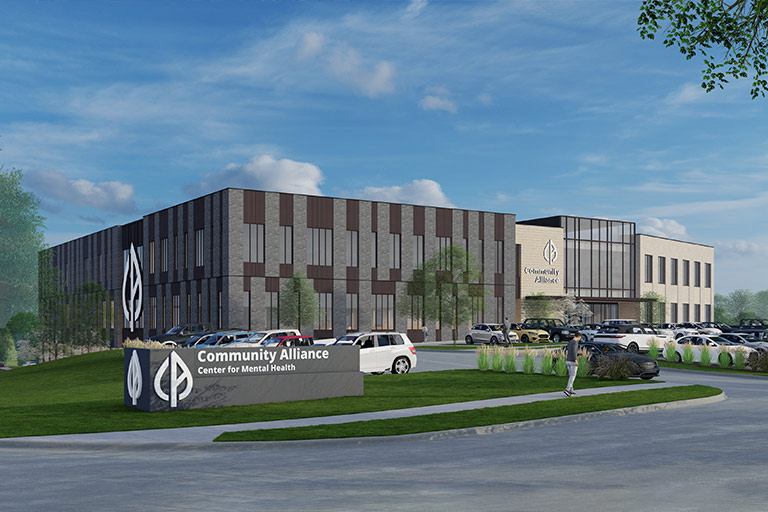 Photo by Alley Poyner Macchietto Architecture. The new 120,000-square-foot facility will be centrally located at 71st Street and Mercy Road.
Meeting Growing Mental Health Care Needs
Prior to the pandemic, one in five Nebraskans experienced a mental health challenge in any given year. Over the past two years, this number has grown to one in three.
To meet this need, Community Alliance is expanding its integrated health care services and its facilities. With the help of four federal grants, efforts to grow psychiatric and counseling services integrated with primary health care services, along with our rehabilitation, employment, peer and family support services are already underway. We also recently launched a suicide prevention program and are working to initiate additional educational and support initiatives.
"At Community Alliance we know it takes courage to ask for help," said Carole Boye, Chief Executive Officer. "A primary goal of our expansion effort is to provide more timely access to care when someone asks for it — whether that be help to address a short-term mental health challenge or an ongoing mental illness," she said.
"By offering quality, respectful and responsive services early, we can help someone avoid the need for hospitalization or crisis care."
New Program Headquarters
Community Alliance's new program headquarters in Omaha is an essential element to the success of our program expansion plans, providing a one-stop, comprehensive access point for both mental and physical health care. The brand-new integrated health care is expected to open in late 2023 and is being designed to serve up to three times the number of people that can currently be served at the agency's present program locations at 40th and Leavenworth and 71st and Jones.
"The field of mental health is constantly evolving," said Boye. "We have learned so much in our 40-year history — and even more in the past two years as we have all experienced the trauma and challenges of a once-in-a-century pandemic. The features and layout of the building will take all these learnings into account, along with continued discussion and input from clients, mental health leaders and community stakeholders."
Major features of the new 120,000 square foot facility will include:
Primary Care services integrated with Psychiatric and Counseling Services
A dedicated Health and Wellness area
Expanded access to Employment, Rehabilitation, Family Education and Care Coordination services
On-site pharmacy
Easy connection between services for clients and staff alike
Centralized location on 72nd Street near public transit and interstate
Uninterrupted Services During the Building Process
"We aren't there yet in terms of capacity and responsiveness," Boye emphasized. "But we are committed to achieving these goals, as evidenced by our efforts to add to our already skilled and committed workforce, the services we are working to expand, and this building announcement."
"We will get there with the help of our community, she concluded. "And, in the interim, please know that services will continue uninterrupted at our current locations."