The Heart of Rapid Response Intake: A Spotlight on Team Lead Jessica Brown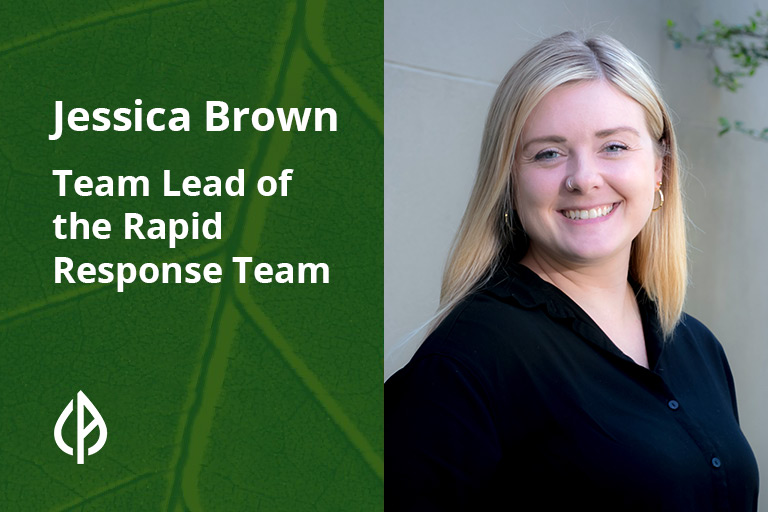 Not every job is created equally, and not everyone who fills those jobs is created equally. While some individuals thrive on predictability and structure, others thrive on juggling multiple responsibilities simultaneously – especially if it is a job that comes from their heart.
Jessica Brown, Team Lead of the Rapid Response Team at Community Alliance, is wholeheartedly the latter. From witnessing transformative changes to fostering a close-knit team dynamic, Jessica's experience as a Rapid Response Supervisor offers insights into Community Alliance's profound impact on individuals, the community as a whole, and the lucky individuals who work for the non-profit.
"I have always thrived in environments that demand multitasking. Juggling various responsibilities in the intake department allows me to exercise my organizational skills and adaptability. It's a challenge I embrace wholeheartedly, knowing that by efficiently managing multiple tasks, I can effectively support a greater number of individuals in need," said Jessica Brown about her role at CA.
Understanding the Importance of the Rapid Response Intake Team
Jessica's job holds great importance to the larger organization, and it's something she doesn't take lightly. While she thrives on the ability to manage multiple projects at once, it's also her responsibility to consider the strengths of her team members. She has found, for her team, that it's important no one gets pigeonholed into one thing. "I think that's what's really great about my team. They all have different skills and strengths and things that they really like to do, and we support them in being able to do that, and their team supports them as well."
Jessica has a passion for helping the clients who walk through the doors at CA, but she also has a commitment to helping her team grow. Once she has helped identify her team members' strengths, she does what she can to nurture them and help them move throughout the organization.
"I have a team member who loves talking to people, and so he does outreach to all our hospitals, and he came into this role on his own. He goes to all the hospitals and meets folks before they get discharged. He offers them a friendly face and tells them about services they can receive when they leave. It makes it less scary for them to walk in our door. But he was just in one role, and he had a passion for this, and we supported him," said Jessica. "We support him because we know he's good at it, it supports the team, and most importantly, it helps the people we're serving with the initial connections he's making."
As a whole, the Rapid Response Team at CA is responsible for managing a wide range of critical tasks that contribute to the overall success and efficiency of the integrated health care organization. Their roles involve ensuring seamless coordination between programs, prioritizing and executing tasks effectively, and maintaining clear communication channels.
By managing multiple responsibilities with finesse, Jessica and her team play a pivotal role in driving productivity, meeting deadlines, and facilitating the smooth operation of daily activities. Her versatility and passion contribute to the overall effectiveness and success of her team and the organization as a whole.
Additionally, Jessica plays a vital role in collaborating with other programs to streamline workflows, facilitate effective communication, and ensure the smooth operation of the organization's overall intake process.
Since the Rapid Response Team plays such a crucial part in onboarding clients, Jessica takes great pride in ensuring all team members are in the right roles to support this initial connection with clients, while also helping to guide their journey as they move throughout the many offerings at Community Alliance.
Jessica explained, "Being able to guide clients through our Community Alliance services is incredibly rewarding. Witnessing their transformation as they find support, resources, and a sense of belonging in their journey is what drives me to make a difference every day."
Hope for the Future at Community Alliance
In April of 2022, Community Alliance unveiled the exciting expansion of its integrated health care services with the construction of a new program headquarters in Omaha. As the new building progresses, anticipation for the future is growing from within the organization.
Jessica expressed her hope for a more promising future with the new building. She envisions a space that fosters creativity, collaboration, and innovation. Jessica anticipates a more efficient and productive work environment with the improved infrastructure. She hopes the new building will enhance team dynamics, encourage cross-program collaboration, and provide a comfortable and inspiring space.
Jessica also envisions the new building becoming a hub for attracting top talent and showcasing the organization's commitment to growth and excellence. She envisions the new building will serve as a catalyst for success, enabling the organization to thrive and achieve even more for clients and employees in the future. "I am truly excited about the new building and the possibilities it brings. It's not just a physical structure; it represents a fresh chapter for our organization, where innovation and collaboration will flourish, propelling us toward new heights."
Make a Difference Every Day at Community Alliance
Are you ready to make a difference every day? To feel your positive impact every day? To pursue your passion every day? Learn more about some of the open positions we are looking to fill with the right candidates:
Apply today through our website for available behavioral health jobs or by calling us at 402.341.5128. If you are looking for more than just a job, please consider applying.