Recent Graduates Can Pursue Their Passions and Advance Their Career Every Day at Community Alliance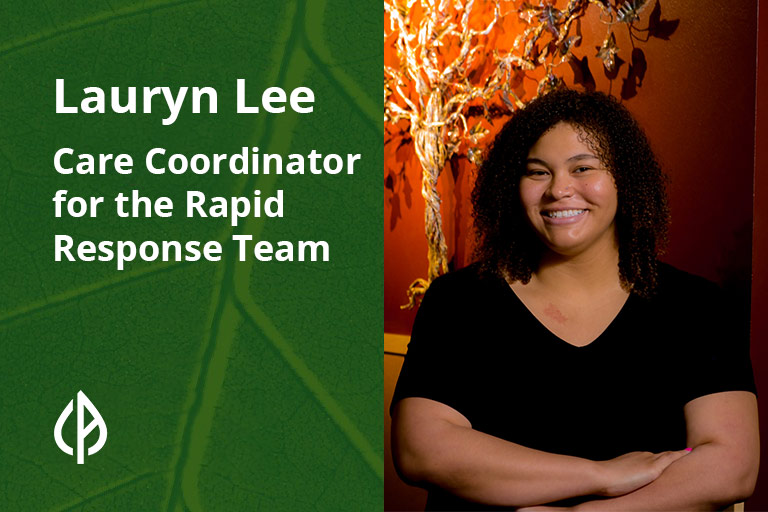 Starting a new job is never easy. It's a major transition, there's so much to learn, and it can be difficult to step outside your comfort zone. But for Lauryn Lee, jumping into the role of Care Coordinator for the Rapid Response Team at Community Alliance has been a rewarding and seamless transition.
When Lauryn graduated with a psychology and human services degree, she was driven by her desire to make a difference in people's lives. When she learned about Community Alliance and its extensive range of programs and services aimed at providing rehabilitation and support to recovering individuals, she knew it was a good fit.
"I thought, that is something I want to do. That's somewhere I want to be," said Lauryn about Community Alliance.
How Lauryn Found Her Calling at Community Alliance
Since Lauryn graduated during COVID, things looked a little different than she pictured for life after graduation. She was actively searching for a job that allowed her to use her degree and to help people. When she found Community Alliance and explored its rehabilitative programs and services, she knew that a mental health job would be a good fit for her budding career.
Like many recent college graduates, Lauryn applied to several different places, but her mind kept returning to Community Alliance. After landing an interview, her hopes grew. During the interview process, Lauryn felt a genuine connection with Jessica, who would be her supervisor. Jessica emphasized the collaborative nature of the team and the support they provide to one another.
The team at Community Alliance takes care of each other by offering assistance, sharing knowledge, and collaborating to ensure that no one is overwhelmed with their responsibilities. It's that level of support and connection with her co-workers that made it easy for Lauryn accept her position at Community Alliance.
After nearly a year of working at Community Alliance, Lauryn's passion has continued to grow. Despite the challenges of working with vulnerable populations, Lauryn finds motivation in the opportunity to help individuals and connect them with the resources they need.
Lauryn describes the energy at Community Alliance as supportive, collaborative, and exciting, with everyone working together to make a positive impact. "Just from working here the time that I've worked here, it's one of the most supportive and collaborative environments that I've ever been in. That collaboration and being able to get close to people that you work with is valuable. Getting to know them on a personal level, on a professional level, and being able to make those kinds of connections that support the clients and then support the people around you is exciting, collaborative, and supportive in so many different ways."
Why Lauryn is Excited to Come to Work Every Day
No two days are alike at Community Alliance, and no two clients are alike. Lauryn is exposed to diverse people and situations, allowing her to expand her knowledge and understanding of mental health conditions and rehabilitation techniques.
On the job, she learns about the latest evidence-based practices and interventions through regular training and professional development opportunities offered by Community Alliance. Through direct interactions with clients, Lauryn learns to assess individual needs, develop personalized treatment plans, and identify the most suitable community resources and programs.
Every day, Lauryn gains valuable insights from her colleagues and the entire integrated health team at Community Alliance, who bring their unique expertise and perspectives to the table, enriching her understanding of holistic care.
Lauryn's dedication and enthusiasm for her role at Community Alliance are palpable. Her commitment to making a positive impact in the lives of individuals with mental health challenges is inspiring, and she embraces her job with a genuine passion that shines through in her interactions with clients and co-workers. "The reason I'm here today is I just wanted to step up. I wanted to step up and be there for my team, be there for our local Omaha community, and be there for Community Alliance when other people needed me."
Pursuing a behavioral health job isn't for everyone, but for Lauryn, she's embracing it every single day. She followed her heart and is using her degree in a way that allows her to help individuals throughout the Omaha community. And as a Care Coordinator at Community Alliance, she is thriving.
Follow Your Heart Every Day at Community Alliance
Are you ready to make a difference every day? To feel your positive impact every day? To pursue your passion every day? Learn more about some of the open positions we are looking to fill with the right candidates.

Apply today through our website for available behavioral health jobs or by calling us at 402.341.5128. If you are looking for more than just a job, please consider applying.