Psychiatric services are being expanded by Community Alliance with the help of technology.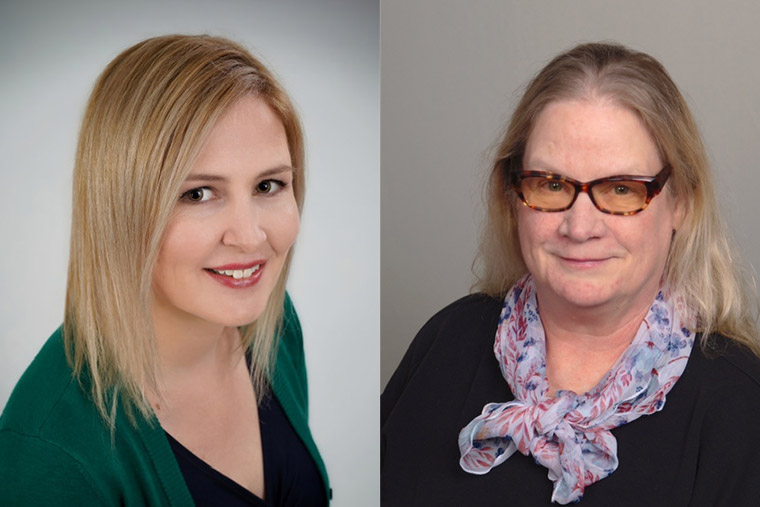 Community Alliance has welcomed two new psychiatric providers since the beginning of the year – both experienced nurse practitioners and both experienced in providing services via telehealth.
We've Expanded How We Serve Clients.
"Before the pandemic, we had all in-office prescribers," said Aileen Brady, Community Alliance chief operating officer. "Then, when the pandemic hit, we rapidly implemented telehealth services. We provided tablets to clients who needed them to be able to connect with their provider from home if that is what they wanted to do. We also kept our offices open so that clients could come here to receive services while the prescriber worked from home. Both options were received well."
"As our integrated care team became more comfortable with virtual services, in addition to the in-person services previously provided, we knew that continuing and growing telehealth services was a way to expand not only who we served, but how we served them," Brady explained. As Community Alliance already had the technology and equipment needed because of the pandemic, it turned its focus to recruiting the right practitioners to provide quality services virtually.
As it happens, Community Alliance found both new providers in Tennessee, though connecting through two different avenues.
Making Vital Connections.
Heather Bowen, who holds a doctorate degree in nursing and has a decade of experience as a Psychiatric Registered Nurse, joined Community Alliance in January. She has been offering care by telehealth since 2016. "The way I view it is psychiatry is not just a job for me, this is a calling. It's something I enjoy doing," Dr. Bowen expressed. "I've done inpatient psychiatry, outpatient, adult outpatient, pediatric, I'm correction certified. I've done telehealth and live jail coverage in multiple states – Alabama, Nebraska, Kentucky. I'm getting licensed in Alaska right now. I'm very used to telehealth, and I've worked on a number of different platforms, so I'm very comfortable with it."
"I think that many of our clients at Community Alliance are already pretty comfortable using the technology having access to that form of communication already through platforms like Skype and FaceTime. So, the technology isn't totally foreign," Dr. Bowen noted. "For folks who haven't conducted a visit this way with a provider before, it might feel odd at first, but I found that for most people, after they get to talking with us, the level of discomfort seemed to disappear. Then, the conversation just gets flowing and they tend to forget that there's even a monitor there. In this environment there's no need to wear a mask or to stay six feet apart with social distancing."
Telehealth as Part of Integrated Health Care
"I started at Community Alliance at the end of April, and I could not have asked for a better team," offered APRN Jennifer Darby, who also is a licensed nurse practitioner and has a doctorate in nursing "I feel like truly blessed. I have been working in mental health since I was 18 working in a group home. All told, I've worked in a variety of settings and with a bunch of people along the way. I couldn't ask for a better staff or working environment. If we come across an obstacle, if a client's having difficulty, if they've come in crisis or even if we're having a technical problem with equipment, everybody comes together immediately to try to help solve or mitigate the problem right away."
Dr. Darby described the role she plays as part of a behavioral health integrated care team, and how it supports holistic health care for clients, "I've referred several clients to primary care. If their blood pressure is high, if they don't have a primary care provider, then I can get them over to our primary care. I think mental health and primary care in one facility makes it a lot easier for our clients, so that they don't slip through the cracks and have their medical needs go unmet. It's so much easier to say, 'Hey, your blood pressure's high', or 'Hey, are you interested in getting on birth control', or 'Hey, that glucose is really high. Regardless of the need, we can get them help right away."
"We have clients who don't have family. For them to come in and participate in day programs and therapy and see their provider, in a sense we're their surrogate family," Dr. Bowen added. "We're able to give them personalized care where they feel very supported and encouraged in their treatment plan. And I think that we're able to save lives by doing just that."
Here to Stay
"Telehealth is here to stay," said Brady. "It offers another option to those we serve and has allowed us to expand our workforce and capacity in ways that we hadn't been able to before. We look forward to introducing this option and our two new providers to even more of our clients in the weeks and months ahead."
Learn more about how telehealth services at Community Alliance can help support your needs.
Help is Within Reach
At Community Alliance, we offer a full range of integrated health services including primary and psychiatric care, mental health and substance use counseling, rehabilitation and employment services, supportive housing, community, family and peer supports and more.
RESOURCES:
Psychiatric and Counseling Services