Breaking the Silence 2021: Our Keynote Address from David Sheff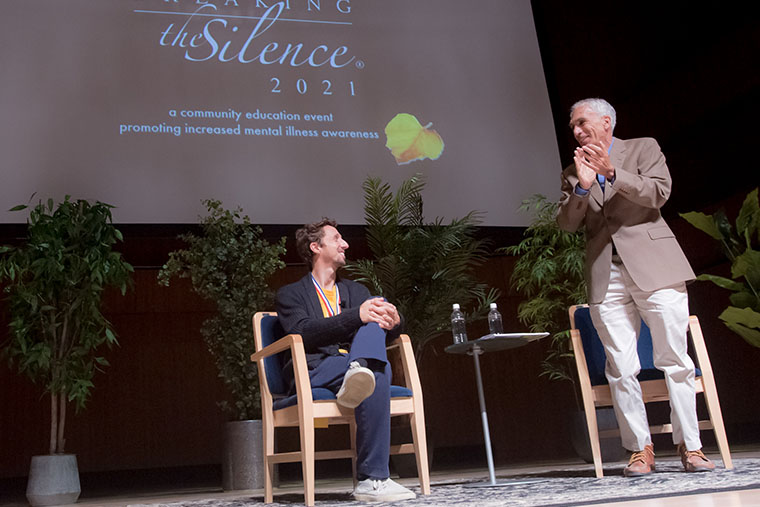 Understanding Mental Illness and Addiction
Take it one day at a time – or even just one hour at a time – and it will get better. These are wise words about mental illness and addiction from author, journalist, and devoted father, David Sheff. David and his son Nic are the real-life father and son whose journey to recovery is portrayed in the 2018 feature film, Beautiful Boy. Community Alliance was honored to have the Sheffs as keynote speakers for this year's Breaking the Silence program. David and Nic shared their personal family story of mental illness and addiction – a story that is no doubt difficult for them to relive at times. But they share it with bravery, complete openness, honesty, and an inspiring dose of hope.
Today, you can find Nic Sheff living a pretty regular life. He enjoys taking long walks with his dogs, watching movies on the couch with his wife, or enjoying a nice dinner at home. He is also a best-selling author, screenwriter, and national speaker on addiction and mental illness. But the Nic of the past had a very different life, riddled with drug addiction and a struggle with undiagnosed bipolar disorder. Nic said he began using marijuana as a teenager to calm his anxiety. It made him feel good at the time, but when the high wore off, the darkness crept back in. That cycle always left him searching for the next drug to bring back the original high he experienced, and quell his persistent and debilitating anxiety. Eventually, he tried crystal meth, which was the beginning of a very difficult spiral of addiction, relapse, and recovery that would go on for several years.
Community Alliance would like to thank local professional photographers, Steve Kowalski with A Better Exposure and Tim and Jinnie McCormick from Billings Photography, for donating their time and talents to help us capture these special moments from Breaking the Silence, 2021.
Understanding Mental Illness and Substance Abuse
One thing Nic and David both know for sure is Nic's mental illness went unrecognized for too long. From his now extensive research on the topic, David knows treating the root cause of someone's addiction is critical. Mental illness and substance use disorders often occur together, yet unfortunately, are still too often treated separately. Throughout his addiction journey, Nic recounted how he would enter a rehab program, do the Twelve Steps, get sober for a while (even for up to a year or more), and then relapse into drug use again. It wasn't until he finally saw a psychiatrist who recognized and treated his bipolar disorder that he was truly able to start his recovery from active addiction.
Nic recognizes addiction and bipolar disorder are diseases he will always have, but he has found healthier ways to treat his symptoms. To combat his mental illness and substance abuse issues he takes his prescribed medication and regularly sees a psychiatrist to help keep him on his path. This year, Nic Sheff celebrates eleven years of sobriety – a huge and admirable accomplishment that earned him a well-deserved standing ovation from the guests of Breaking the Silence and his dad.
Family Education and Support
As the proud father who considers his son Nic to be his best friend, David shared with the audience his feelings about watching someone he loves hurt himself and others. Like any parent, he was devastated when he felt like he didn't know his own son, especially given they had always been very close. He remembers receiving calls from law enforcement officials when Nic was arrested, and emergency room doctors when he was in the hospital, and then the terror of not knowing if his son would be alive or dead when he got to him. One particularly scary night after Nic hadn't been heard from for three days, David found Nic emaciated and unresponsive. David's worst fears were unfolding before his eyes. Nic almost died that night from an infection he contracted using dirty needles to inject drugs into his arm.
David said for many years he dedicated most of his life to keeping his son alive. It was all-consuming, costing him time with his wife and his two younger children. Nic had stolen from them, lied to them, and disrupted their family so many times; David admits it was hard for the family to trust Nic again as he was beginning his journey to sobriety. However, David was also very quick to point out the love was always there. No matter what they were going through, that love in their hearts for Nic never faltered. One thing that gave David comfort at the height of Nic's addiction was how he always knew Nic's mental illness and addiction were in the driver's seat – not Nic.
Diagnosed with bipolar disorder himself, and coming from a family with a history of mental illnesses and substance use disorders, David believes there were multiple things that led to Nic's substance use. Genetics, the trauma of a divorce from Nic's mother and a contentious child custody arrangement, and Nic's undiagnosed mental illness were all contributing factors. They both believe mental illness and addiction education is the key to preventing more stories like their family's story.
David's and Nic's compassion for others is palpable. Through their willingness to open up their old wounds for others to learn from, David and Nic have undoubtedly impacted countless individuals and families experiencing mental illness and addiction. In their own ways, they each reassured the audience that even when things are hard, they can and often do get better. Recovery is out there, and life can be happy again. Nic is living proof.
Breaking the Silence is an annual community education event presented by Community Alliance to promote increased awareness and understanding of mental illness. Our thanks go out to all the sponsors, supporters and participants who made the Sheff's visit possible and are helping to spread a message of hope and recovery to the individuals and families affected by mental illness and addiction.
We are also thankful to David and Nic and every other family like theirs who is willing to share their story. Until we can normalize conversations about mental illness and substance use disorders, the stigma surrounding it will continue to hurt the people who need help. Our behavioral health system operates in what CEO Carole Boye describes as a "stage four mentality". Instead of treating mental illness early, access to care is often delayed until it has hit a crisis stage. Just like you shouldn't wait to treat cancer until it is at stage four, we shouldn't wait to treat mental illness or addiction, either. Until we, as a community and state, can let go of the stereotypes and misconceptions that people with mental illness and substance use disorders don't deserve the same level of compassion and care as a person suffering from a physical illness, we'll be stuck in that stage four mentality and the disability and heartache that comes with such an approach. Until that day comes, Community Alliance will continue to urge people to join in breaking the silence about mental illness and substance abuse and be a voice of advocacy for greater understanding and access to the quality services and supports that provide the opportunity for recovery.