Community Outreach: We're Dedicated to Making the Season Bright!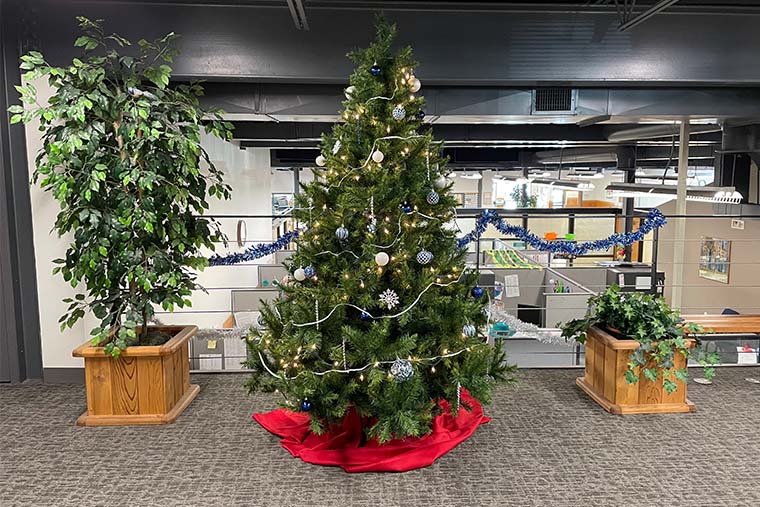 Positive Action. Positive Outcomes.
This time of year, we do our best to offer community outreach programs, services and practical support to make the holidays special. And we are especially grateful to our board members, staff, volunteers and generous donors who contribute to help us spread holiday cheer.
Adopt-a-Client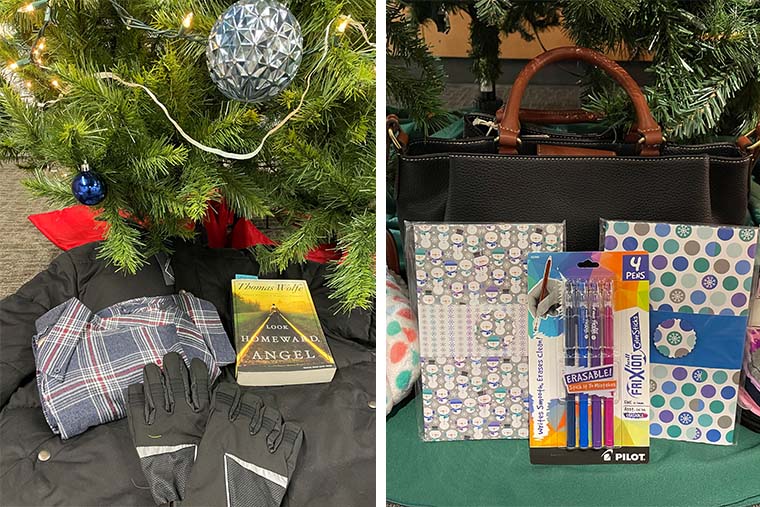 Our Adopt-a-Client program is an opportunity for staff and members of the Board to help Community Alliance participants by providing holiday gifts for those who, without our help, may not have presents for themselves and/or their children. This is a wonderful community outreach tradition we have at Community Alliance, and it means so much to those we serve. It's a great feeling to contribute to another's happiness and produce positive outcomes.
Thirty participants have been adopted this year including several with children.
Thankfully, many clients have been able to move into their own apartments this past year making practical household items such as dishes, pots and pans and bedding among the most needed along with boots and warm work clothes due to the cold weather.
Hats, Gloves, Scarves & Socks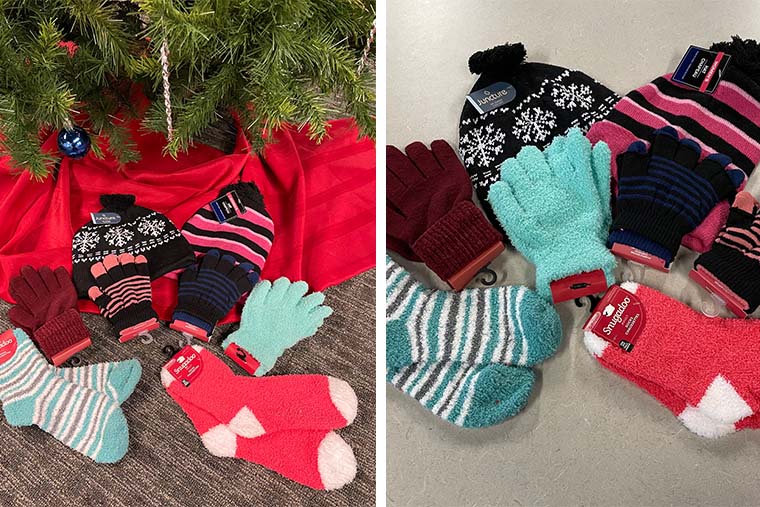 While the weather has been mild so far this winter, we know the Nebraska cold and wind will be here soon. Every year, Community Alliance runs a hats and gloves clothing drive, allowing us to distribute these seasonal items whenever someone needs them. Thanks to the donations of several special and generous friends we have been able to purchase and distribute well over 300 hats, gloves, mittens, scarves and socks to date. And we will continue these community outreach efforts throughout January and as long as the cold weather lasts.
Celebrating with our Residents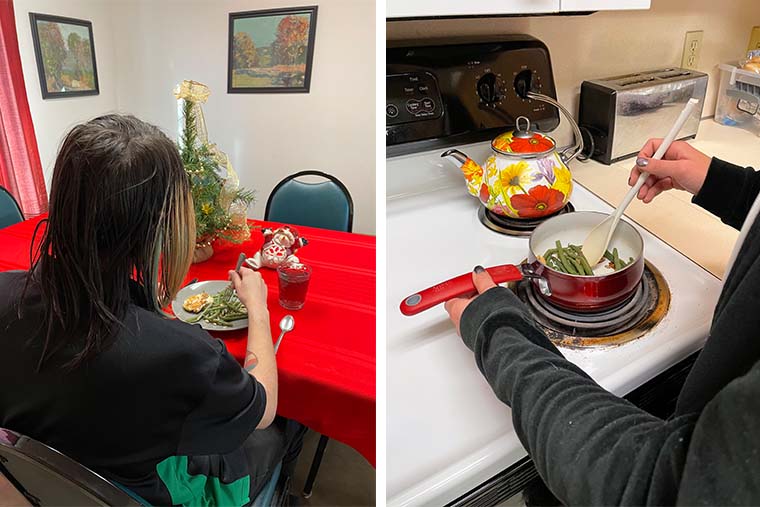 A generous donation from Bridges Trust will help us make the holidays for those in our residential program special as well. Each residential home will celebrate the season by serving their own special holiday meal chosen by residents. In addition, each resident will receive a special, personal holiday gift this year. Gifts will be a surprise, wrapped and placed under the tree.
We know being able to do this is especially meaningful to those who perhaps haven't felt the joy of the season for a while. Last year, one client was moved to tears, saying he couldn't remember the last time he had opened a present on Christmas morning.
Another was so happy with her gifts she offered an impromptu "fashion show" with all the new clothes she received. She said that her only gifts that year came from Community Alliance. We were thrilled to make her holiday bright.
Sharing Holiday Bling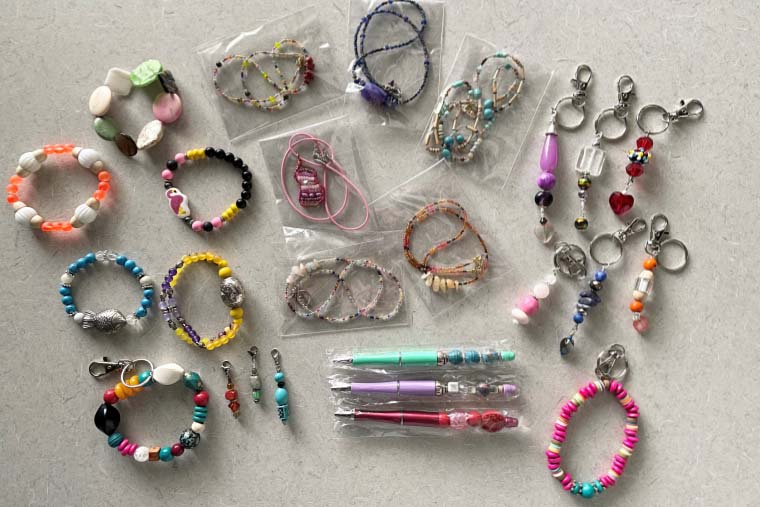 Another tradition comes from Peg Baxter, a former Community Alliance employee and long-time volunteer, who gives her time and talent to create bracelets, necklaces, earrings and other jewelry for those we serve. We receive hundreds of pieces of jewelry and other fun items each year. During our annual holiday party, participants can choose items for themselves that match their personal style.
Having an occasion to dress up with beautiful jewelry has a tremendous impact on one's mental health and self-esteem. Most Community Alliance clients we serve do not have the opportunity to buy items like jewelry. So, it's an especially thoughtful gift that helps our clients feel extra special.
Cultural Awareness Celebrations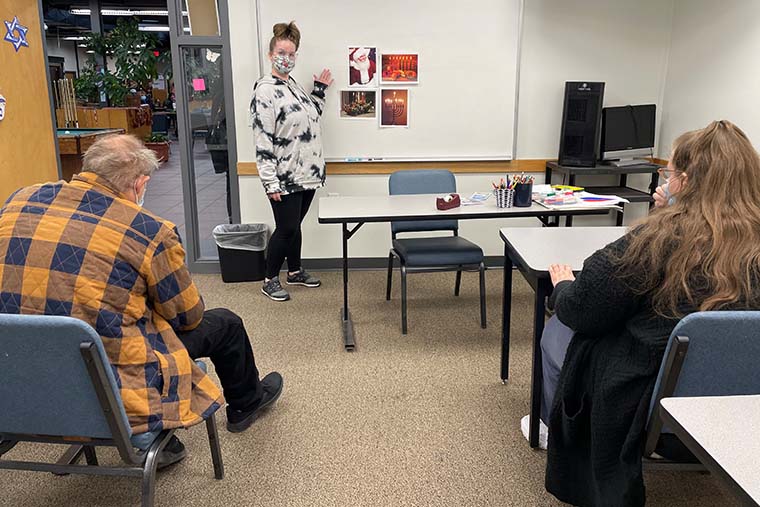 At Community Alliance we promote and actively support diversity and inclusion. That's why we offer classes on cultural awareness, of special importance during this time of year when we celebrate Hanukkah, Christmas, Yule or Winter Solstice, and Kwanza. Our purpose is to provide education and promote awareness about people that have different cultures and beliefs, and have an opportunity to learn about other customs and practices. One Day Rehabilitation staff member who leads these sessions explains that she approaches each holiday from a non-religious framework and emphasizes that we all have more similarities than differences.
New Year, New Opportunities
Community Alliance offers its heartfelt thanks to all who have been involved this past year and helped us make a positive impact in 2021. Know that when you donate through us, you're bettering the lives of your neighbors. We have truly been blessed to pass your generosity on to those we serve throughout 2021 and look forward to a new year, new donors and volunteers, and ways to continue to make a difference in the lives of so many individuals and families throughout our community.