Addressing the Needs of Our Staff to Better Serve Our Clients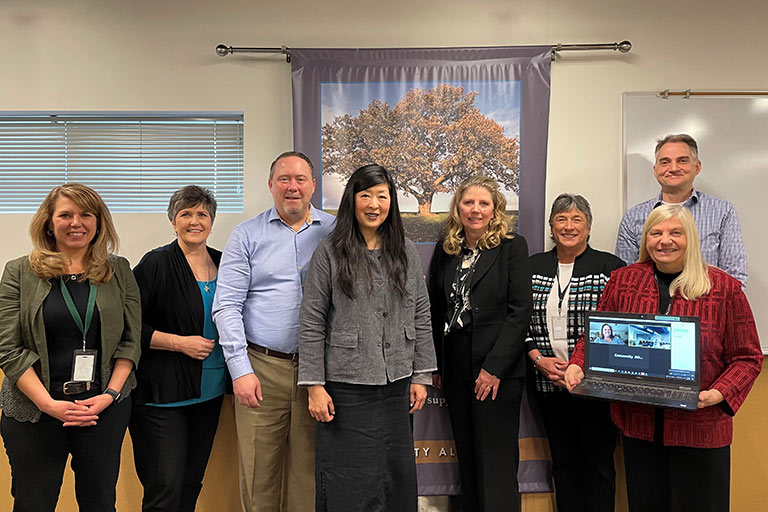 It comes as no surprise that the pandemic has taken its toll on frontline workers and while the staff at Community Alliance were also impacted in a big way, they also worked hard and showed their resiliency and strength. The strategies the organization used to support staff during the pandemic had to be adjusted since some of the previous approaches were just not possible. Community Alliance sought out additional opportunities in order to continue to build upon our current wellness programming and bring it to a new level.
We genuinely believe that placing attention on the well-being of our staff directly correlates with the level of care they can provide our clients. In the past, Community Alliance had an active and fun wellness program and are very excited to reignite and reinvigorate our wellness efforts.
We want Community Alliance staff to be their best in mind, body and spirit. We want to do everything we can to bring out the best in our staff members as they continue to provide quality outcomes for our growing services and programs.
SAMHSA Grant Includes Focus on Building Sustainable Wellness
In the fall of 2021, Community Alliance received funding from the SAMHSA Community Mental Health Center (CMHC) Grant Program. One of the important components supported by the grant funds, is re-building our health and wellness efforts to focus added attention on the staff that makes Community Alliance run smoothly day in and day out.
Under the CMHC grant, we are partnering with the University of Colorado's Behavioral Health and Wellness Program (BHWP) to create a Work and Well-Being Community of Practice to provide self-care resources to staff members and build an enduring focus on mental health and wellness. Under the leadership of Debbie Kohl, Community Alliance Human Resources Director, Dr. Chad Morris, the director of the Behavioral Health and Wellness Program at the University of Colorado, and an agency wellness committee, we are working to help staff renew and develop additional self-care skills according to identified priorities and needs.
Using our existing wellness programming as a starting point, we plan to incorporate as much feedback from Dr. Morris and our wellness committee as possible to fine-tune the program and make it work for every staff member.
"We're all different. What works for you may not work for me. For me, bright sunshine and a nice spring day can go a long way," said Debbie Kohl. She continued, "We have to be able to allow everyone to figure out what will work for them because it's not going to be the same for every person. We are all unique. Our goal is to give staff the tools and resources to find what's right for them."
To produce measurable results, we will be working with the Behavioral Health and Wellness Program at the University of Colorado to conduct a Workplace Wellness Survey. Through the survey, we can continue to assess how well we are supporting our staff members across the following Eight Dimensions of Wellness:
Emotional/Mental Health
Physical
Intellectual
Occupational
Financial
Social
Spiritual
Environmental
We plan to encourage further staff engagement, resiliency and retention through mental health and wellness resources and provide continued access to an Employee Assistance Program (Best Care EAP) for mental health treatment and referrals.
How Prioritizing Our Staff Directly Impacts Our Clients
There is no question that supporting the needs of our staff members is important. This program we are developing through the CMHC grant is also designed to increase the quality of care for the people we serve. We know that expanding and building upon our focus for staff members' well-being will directly benefit our clients as well.
"To continue accomplishing our mission of helping individuals with mental illness and substance use issues, our employees have to be the strongest, best versions of themselves," said Debbie. "We want our employees to know they are working for an organization that cares about their well-being for the greater purpose of providing service and support for the people we serve. And the best way we can do that is with this new initiative and focus."
We're Hiring
The Community Alliance team is growing, and we need dedicated professionals like yourself to help us continue striving towards positive outcomes for the people we serve. Apply today through our website for available non-profit positions or by calling us at 402-341-5128. If you believe in our mission of providing whole-person healthcare as much as we do, please consider applying.