Meet our seven new board members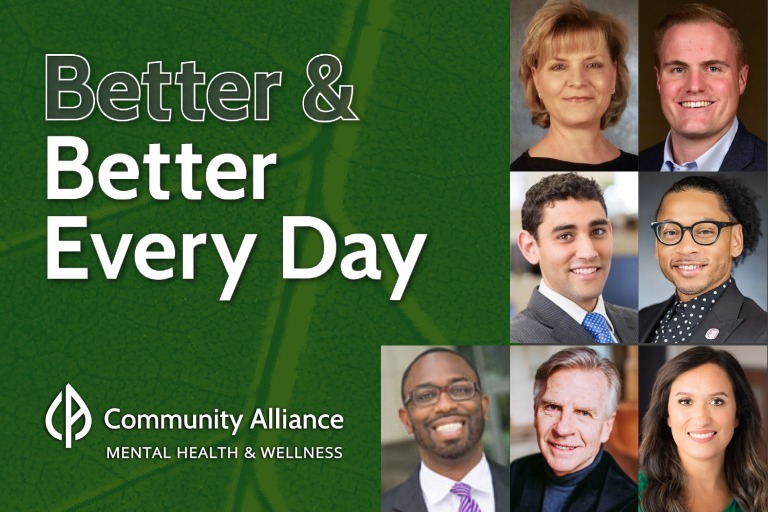 Community Alliance helps people overcome mental health challenges so they can thrive in the community. We started as a local grassroots organization in 1981, and each of our programs was born by answering a call for help. When we see a need, we get to work, often partnering with others to meet that need. Our board of directors guides these efforts. We're thankful for the volunteer service of past, present and incoming members — including the seven new directors joining us in 2023:
Brenda Ehrhart
Brenda is the business manager at Ehrhart Griffin & Associates, Inc., which provides civil engineering, construction management and surveying services, where she is responsible for accounts receivable, marketing support and events. Brenda is currently a voting board member for the University of Nebraska's Institutional Animal Care and Use Committee (IACUC), ensuring the humane care of animals in research and providing oversight of research and teaching activities. In addition to her previous community involvement serving on the St. Margaret Mary Parish Council, leading the St. Margaret Mary School Home and School Committee as president, and helping fundraise for Creighton Prep, Brenda has spent many hours at the Omaha Community Playhouse both on stage and behind the scenes.
Michael R. Frank
Michael is a business consultant working with executives from for-profit companies to nonprofit organizations. For the first half of his career, he worked as a high-level executive at General Mills, PepsiCo, and the Walt Disney Company. He then helped build MFS Communications and co-founded Level 3 Communications. Mike is on the board of directors at the Hope Center for Kids, where he was the organization's first president, and is the chairman of the GTA Development Fund in Hawaii, which focuses on making Hawaii-centric films. 
Connor T. Jensen
Connor is an audit and assurance senior manager at Deloitte & Touche LLP where he performs external audits and accounting advisory services. He is currently a member of  the UNL Junior School of Accountancy Advisory Board, the UNL Young Alumni Academy, and St. Luke United Methodist Church. Connor looks forward to helping advance Community Alliance's position and helping provide accessible mental health resources.
Hassan Shalla
Hassan is the associate vice president of IT at Mosaic where he is responsible for software development, IT infrastructure, support, and IT security/risk management. Hassan graduated from Cornell University with a B.A. in Information Science and has previously worked at Sapient Global Markets as the manager of program management, serving as the IT delivery lead for software development initiatives for alternative investment clients. He is currently the 2024 board president-elect for Fontenelle Forest's board executive committee. 
Jeffrey Southall II
Jeffrey is the associate director of University of Nebraska Omaha's Division of Institutional Effectiveness and Student Success. As a first-generation college student, he obtained his B.A. in English Literature at Central State University, an HBCU in Wilberforce, Ohio, and is currently a second-year student in the Educational Leadership and Higher Education PhD program at the University of Nebraska–Lincoln. He is a proud member of the Kappa Alpha Psi Fraternity, Inc., the UNO Barbara Weitz Community Engagement Center External Advisory Committee, and the 100 Black Men Chapter of Omaha. Jeffrey is looking forward to bringing his involvement with Community Alliance to his work with the college student population. 
Korey Taylor
Korey is an assistant public defender in Douglas County and will be an assistant professor of law at the University of Nebraska Law School in fall 2023. As a public defender, he practices criminal law and procedure as well as trial advocacy. Korey has also worked in real estate and as a brand management professional at two Fortune 500 health care companies. Currently, he is the president of the Midlands Bar Association, on the executive council of the Omaha Bar Association, is a delegate and 2023 annual meeting chair for the Nebraska State Bar Association (NSBA), and is a member of the advisory committee for the Nebraska Legal Diversity Council. Korey is also a recent graduate of the NSBA Leadership Academy, has been appointed by the Nebraska Supreme Court to serve as a member of the Committee on Equity and Fairness, and is a life member of the Alpha Phi Alpha Fraternity, Inc.
Stephanie Unger
Stephanie is the senior vice president and director of account management at HUB International Great Plains. She serves as the lead consultant to clients and is responsible for offering strategic solutions to their employee benefit challenges. Stephanie has an extensive background in handling a diverse book of employee benefit offerings. In addition to her consulting responsibilities, she also leads the large group account management team, employee development, and strategic planning. Stephanie is currently the president of the Nebraska Chapter Concerns of Police Survivors and is a certified Critical Incident Stress Peer through the International Critical Incident Stress Foundation.