Make a Difference Every Day with Community Alliance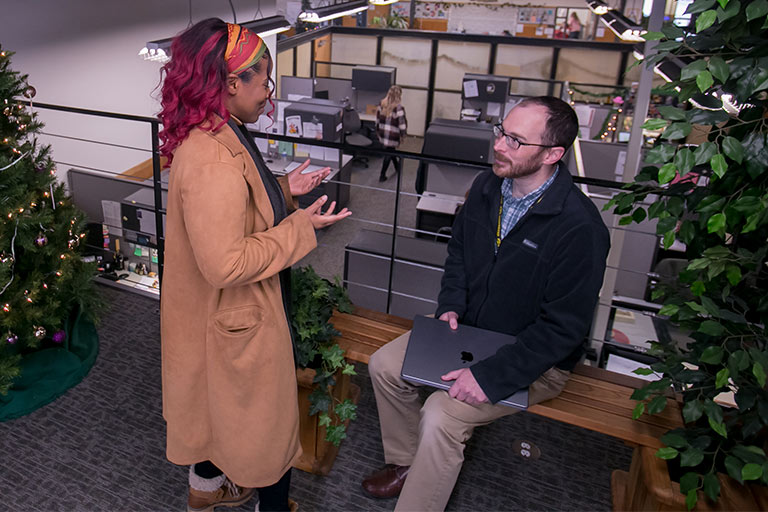 Like many non-profits in a post-COVID world, Community Alliance is working to hire quality mental health professionals to join our team. We want to place individuals in the right positions to help them grow their skills, make a difference in the greater Omaha community, and, ultimately, become part of our integrated health care team. 
The challenge has become, how do we find these extraordinary professionals who share our passion? By defining and sharing what makes Community Alliance different, we hope to attract the right candidates for the right positions.  
"When you're hiring new employees, you're starting and integrating them into our great culture. Now is a perfect time to join Community Alliance and grow with our company," said Debbie Kohl, the Director of Human Resources at Community Alliance. "We are looking for people with a passion for working here." 
Getting Our Staff Involved in Our Efforts
When we sought to define what makes Community Alliance different, we immediately knew we had to include our current staff in the process. We are lucky enough to have so many of our employees want to participate. By learning what makes our employees loyal to Community Alliance, we could find out what sets us apart and what will make us the right choice to advance their careers. 
By surveying our current employees, we found the spark that sets Community Alliance apart. But what happened was so much more than we expected. We learned what our employees love about working for us, we learned about their challenges, and most importantly, we learned why they chose Community Alliance to pursue their careers. 
Some of the biggest takeaways from our staff survey include the following: 
The individuals who work for Community Alliance chose to work with us because of passion for the work (65%), it was the right position for them (59%), shared values (55%), and opportunities for growth and development (37%). 
More than 30% of employees who answered the survey found their jobs at Community Alliance because of an employee referral or by word of mouth. 
The reason survey respondents choose to stay at Community Alliance is because of their passion for the work (60%), shared values (47%), and because of their coworkers (43%). 
We asked our staff what three words they would use to describe Community Alliance's work culture. This word cloud shows the results. The biggest words – caring, passionate, supportive, and dedicated – were used the most.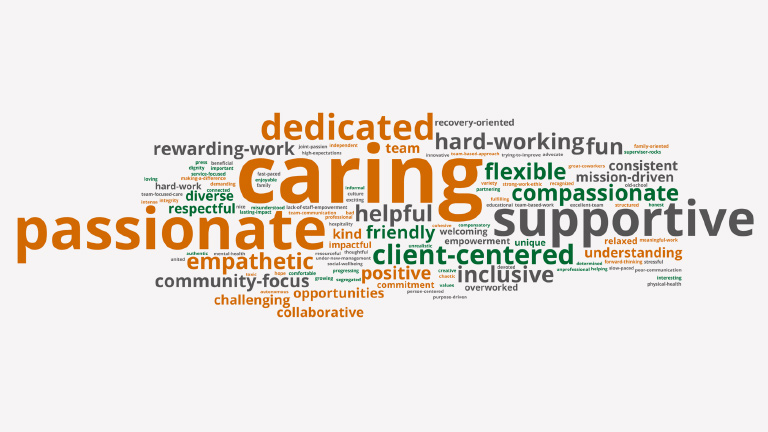 Defining What Makes Us Different 
The survey results made it clear that all our employees are passionate about integrated health care. "We have outstanding leaders here. Their commitment and their knowledge is so broad and deep, and we're very fortunate to have such a strong and wonderful leadership team," said Mike Losole, Community Alliance Recruiter. "They know so much about mental health. They care tremendously about our clients, and in everything they do, they work to make the best decisions for them." 
Leaning on the results of the staff survey and our leadership team, we were finally able to put pen to paper and truly define what sets Community Alliance apart. 
"At Community Alliance, we place you in the right position for your experience now and help you grow your skills for the future as we work together to make a difference every day."
Community Alliance offers individuals so much more than just a job. We offer individuals with a passion for mental health the opportunity to create a career that helps them grow personally, professionally, and as part of our greater team. Through our shared values, collaboration, and on-the-job training, we can position our employees to find fulfillment in their work and to continue growing every day. 
Make a Difference Every Day with Community Alliance
Are you ready to make a difference every day? To feel your positive impact every day? To find your passion every day? Learn more about some of the open positions we are looking to fill with the right candidates: 
https://careers.community-alliance.org/careers/
Apply today through our website for available non-profit positions or by calling us at 402-341-5128. If you are looking for more than just a job, please consider applying.