Improve the lives of others every day: Being a mental health practitioner at Community Alliance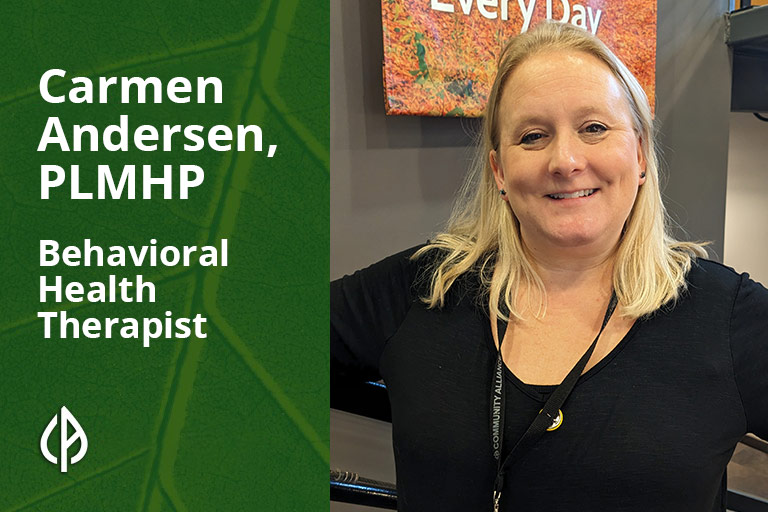 "Choosing Community Alliance when I was going through the interview process and trying to find a job was easy. The values here matched my values. I wanted to work with individuals who are in high need while also being a part of the community. Ultimately, it's not hard to see that there's a need for mental health care, and the idea that individuals can improve their lives through integrated care made Community Alliance the right fit," said Carmen Andersen, PLMHP. 
When looking at careers in the mental health field, we know it's just as important for candidates to feel connected to a company's overall mission as it is for them to feel connected to the day-to-day job. At Community Alliance, we take a different approach to mental health, and it's made all the difference for employees like Carmen Andersen. 
The Importance of Being Part of a Larger Team 
As a Behavioral Health Therapist, Carmen works with a team that includes care coordinators, physicians, psychiatric providers, and residential rehabilitation team members. These professionals provide individual services that combine to support each client with a holistic approach to their mental health and overall wellbeing. From helping clients improve their physical wellness and nutrition to supporting clients who need stable housing or assistance with medication management, everything is happening under one roof for Community Alliance clients. 
"In our CA clinic, part of the way we try to facilitate communication is our morning huddle. In the morning huddle, we all come together: clinic care coordinators, the physician, psychiatric medication providers, and nurses. All of our team comes together in the morning and talks about our clients. What are the crises that we need to address? Who are the clients most in need? Who are some clients that are struggling and could use some additional services? Who will we be seeing today, and what are some of the integrated approaches that we're trying to emphasize? How can we encourage individuals to get their medications? We try to address all of those issues right away every morning."
As a licensed counselor, Carmen has the opportunity to meet with clients once a week. This regularity allows her to stay in tune with any shifts in behavior or mood that need to be addressed. By noticing these changes while they are happening, it's easier for her to work with the other health care professionals at CA to seek progress. 
The Benefits of an Effective Work/Life Balance
For Carmen and many other mental health professionals, one of the most beneficial and often overlooked perks of working at Community Alliance is that we value our employees' work/life balance. Because of the set clinic hours, our team members can go home at night and decompress after such demanding days. Burnout is a major concern for mental health professionals, and CA works to proactively address that for each of its team members. 
"I am able to go home each evening and spend time with my family doing other things. That's my self-care – being able to go home each evening and do the things that I need to do to take care of myself," said Carmen. 
Working in a face-to-face non-profit clinic also makes it easier for licensed independent mental health practitioners to get the 1500 hours they need to meet licensing requirements. As a non-profit, Community Alliance employees also benefit from student loan forgiveness, with the potential to reduce expensive student loans after so many years in the industry. 
Is Community Alliance the right step for your career as a Behavioral Health Therapist? "The experience, the opportunity, the things you can gain from employment here at CA exceed salary a lot – a lot. Without Community Alliance, I would be missing out on opportunities to connect with the community, and I wouldn't have gained skills working with individuals with psychosis," said Carmen about her choice to further her career as a Behavioral Health Therapist at Community Alliance. 
Make a Difference Every Day with Community Alliance
Are you ready to make a difference every day? To feel your positive impact every day? To find your passion every day? Learn more about some of the open positions we are looking to fill with the right candidates: 
https://careers.community-alliance.org/careers/
Apply today through our website for available non-profit positions or by calling us at 402.341.5128. If you are looking for more than just a job, please consider applying.