Community Alliance announces fundraising campaign for new facility to expand services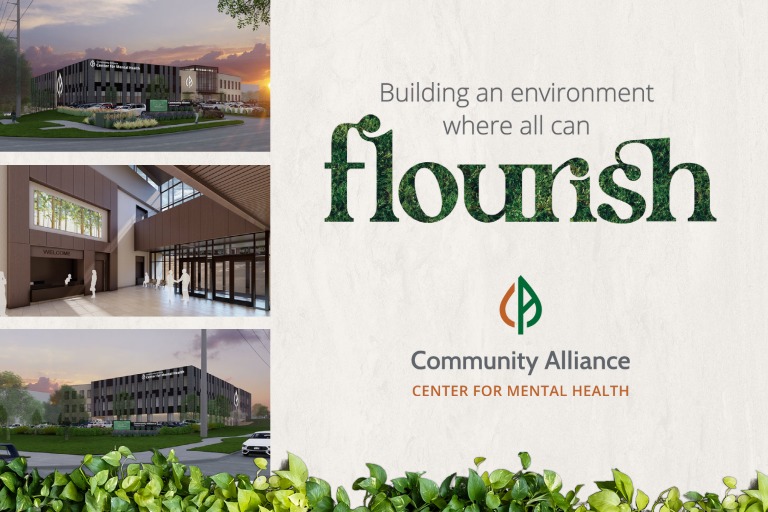 For more than 40 years, Community Alliance has been helping people with mental health needs to live, work and become the best version of themselves. That's both the commitment we make to our community and an ideal that drives us. We believe that when given a healthy, supportive environment, everyone can flourish. 
Today we're asking our community to join us in this important effort by contributing to our capital campaign. 
When it opens in early 2024, Community Alliance's Center for Mental Health will bring our full range of integrated health services under one roof and allow us to serve up to three times the number of people as we can today. It will help us reduce wait times so those asking for help get the care they need when they need it, and empower those served by Community Alliance to have a greater voice in their care through quality, personalized care coordination.
Major features of our new facility will include:
Primary care services integrated with psychiatric and counseling services

Dedicated health and wellness area

Expanded access to employment, rehabilitation, family education and care coordination services

On-site pharmacy

Easy connection between services for clients and staff alike

Centralized location near public transit and interstate
"The need for respectful, responsive, professional mental health services in the Omaha metropolitan area is greater than ever," said Carole Boye, Community Alliance CEO. "Since our inception 42 years ago, Community Alliance has been about helping people with mental health needs to live, work and thrive. With our new Center for Mental Health, we are building so much more than a new facility; we are creating an environment where everyone has access to a personalized support system that will allow them to flourish."
Donate to the campaign and learn more about the new center here.