Dr. Juvet Che discusses holistic care and meeting patients where they are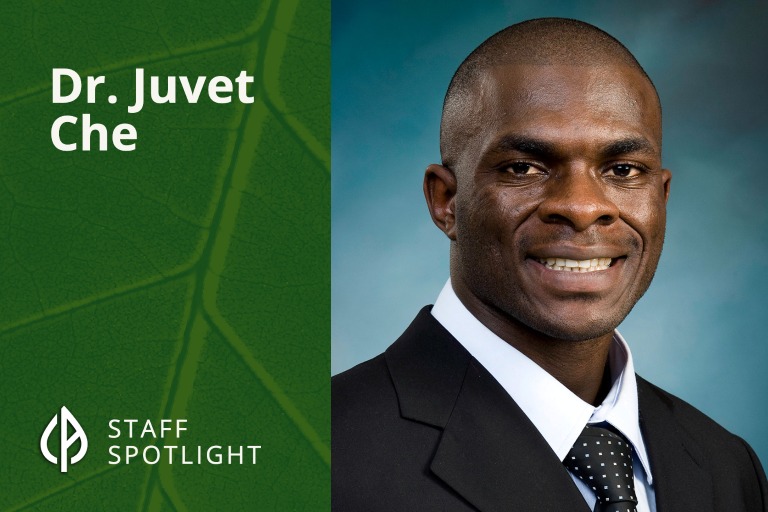 In January, Community Alliance welcomed Dr. Juvet Che as our Chief Medical Officer and as a leader on our Integrated Health Services team. 
Dr. Che's medical experience spans more than a decade. He received his undergraduate degree in biology at Grambling State University and his doctor of medicine at the University of Texas Medical Branch at Galveston, where he also completed an internship in internal medicine. After working as a primary care physician for several years, he decided to pursue psychiatry and joined the Creighton/UNMC Psychiatry Residency Program, crossing paths with Community Alliance for the first time five years ago.
Recently, Dr. Che shared his thoughts on the importance of holistic, integrated care and meeting patients where they are.
What attracted you to work at Community Alliance?
During my residency at Creighton, I had a rotation at Community Alliance in 2017. I observed the community approach that they took to mental health, and it was unique in the sense that there was hands-on involvement with patients in their homes, there was high-quality care in the therapy and services provided, and there was a holistic view of patient care that you don't always see in traditional settings. 
Last year, when there was an opportunity to get involved with the organization at the leadership level, I thought it was a good way to have boots-on-the-ground involvement in the community. The new direction that Community Alliance is moving in, integrating care across the spectrum of physical and mental health, is very exciting.
Why is an integrated approach to care important to you?
Care devoted to mental health has typically been siloed, coming from the perspective that mental health is not connected to physical health or the whole person. For me, given my background in primary care, that separation is arbitrary and doesn't make sense. 
When you bring together the physical health, the mental health and the social well-being of individuals, you have a unique opportunity to help empower people to contribute and serve their purpose in ways that they may otherwise not be able to because of the challenges in trying to access everything that makes them whole. Patients with mental illness often have other chronic illnesses, like diabetes and high blood pressure, and these patients tend to suffer from these illnesses at higher proportions. Looking at them as a whole person is helpful.
How do you describe Community Alliance to someone who doesn't know what the organization offers?
It's health care with heart. When I say that, it's simplistic, but I've come to know Carole and Aileen, our CEO and COO, more as we've been working together. I appreciate the ingenuity and creativity that they've brought to not only pulling together resources but putting in place programming and pursuing patients with mental illness. The traditional approach, in my experience, has been, "We are here, come and see us." What Community Alliance does is different. In some of our services, we do go out to the patients and serve them where they are.
What's an example of meeting people where they are?
A patient struggling with comorbid substance use disorders and homelessness can also have underlying mental illness. For a patient like that, where do you start? All those things individually are so big, but we can figure out how to get them connected to housing services and substance use treatment, and we're going to walk the journey with them in their mental and physical health. We meet people where they are and help them walk that journey without much assumption as to what they can or cannot do. 
Once the patient understands that all those things can be addressed in tandem, I think it gives them hope to work toward their own dreams. It's very hard for some people to see six months or a year down the road, but when they know there is a map, it helps them to walk that journey.
What are you excited about for the new Community Alliance headquarters?
The building is just a physical space, but it provides a real opportunity to integrate a lot of the services that are spread around the Omaha area. Integrating these services and bringing them together in one space allows seamless collaboration between therapy staff and the community programs that we offer. This will give us a really good opportunity to not only expand the scope of practices and the services we can provide but the number of patients we can serve.
What is something people might be surprised to learn about you?
I like dancing as an exercise. It's a fun way to get out my energy. I'm originally from Cameroon in West Africa, so I like afrobeats and hip hop.