Family education classes teach participants how to support loved ones with mental illness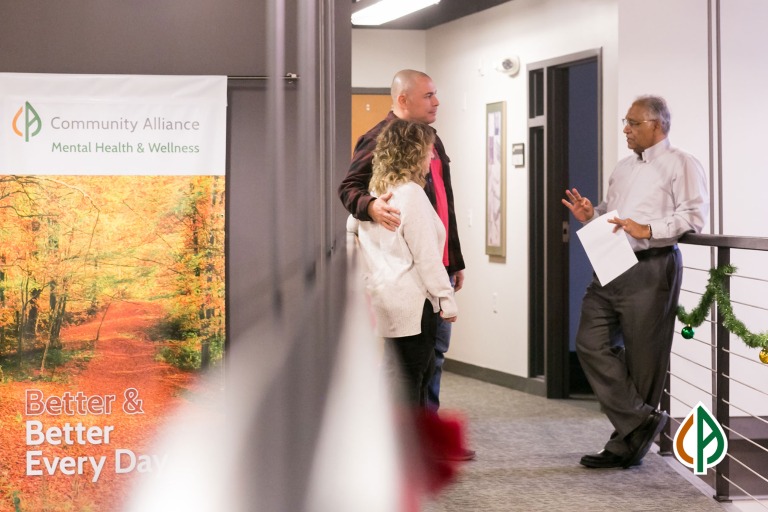 Do you have a family member or a friend that has a mental illness? Do you find yourself asking how you can better help — or how you can cope? You are not alone. At Community Alliance, we are committed to providing families and friends with the help and support they need and deserve as they walk alongside a loved one living with mental illness.
Our free, eight-week Family-to-Family educational program is specifically designed for family members, significant others and close friends of people living with mental illness. The core of the curriculum was developed by the National Alliance on Mental Illness (NAMI). Participants learn about major mental illnesses, medications, side effects and strategies for long-term success.
Now in its 20th year, the program is an example of our long-standing role in providing needed mental health services and resources in Omaha. In that time, thousands of people have been served.
The program covers a wide range of topics, including helping families understand what their loved ones are experiencing; explaining the genetic and biological processes involved; working through any difficult emotions family members may be feeling, such as guilt; and ensuring that participants understand that genetics, and not nurturing, play a big role in one's mental health.
"The word 'family' is defined by the family, so the program may include friends, neighbors, employers, a minister — as many people in the room as they feel is relevant to create a community," said Jai Sookram, program manager for Family Education and Peer Support Services. "Family support is one of the strongest predictors of recovery."
During the sessions, the person living with mental illness and their family collaborate to develop five plans:
A crisis plan to work through the most intense periods of a loved one's mental health

A recovery plan

A relapse prevention plan

A self-care plan for the family members who are supporting their loved one

An advocacy plan to help improve existing systems
Those who complete this nationally recognized program report feeling less isolated and more empathetic and responsive to their loved one. They also described themselves as coping much better and feeling newly empowered to advocate for their relative or friend.
Family-to-Family classes are provided by trained family members who have experience with mental illness. Contact Jai Sookram at lsookram@commall.org to learn more about upcoming class opportunities.