Facilitating support and treatment plans for every client: Working as a licensed day rehab specialist at Community Alliance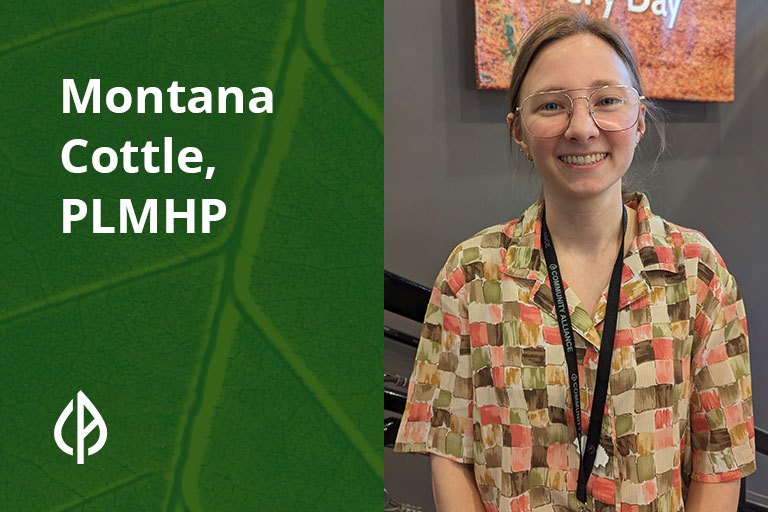 "No two days are the same, and I appreciate that. I didn't want something that was the same every day. I wanted something that could change and offer variety in a job," said Montana Cottle, PLMHP, about her role as a provisionally licensed Day Rehabilitation Specialist at Community Alliance. 
Montana has the unique experience to use her provisional license and her educational background and skills to provide mental health supports for clients while also continuing to work toward achieving full licensure. Her work consists of a wide variety of tasks as she facilitates groups, meets with clients one-on-one, develops and updates treatment plans, provides structured programming, and offers clients new tools to use outside of Community Alliance programs. 
She is also responsible for leading a team of other Community Alliance Rehabilitation Specialists to initiate and maintain positive engagement and keep open lines of communication with individuals served in the program. As a provisionally licensed Day Rehab Specialist, Montana is also charged with completing comprehensive assessments for individuals wanting to enroll in Community Alliance's Day Rehabilitation program. "Comprehensive assessments take a biopsychosocial approach. It's looking at a lot of different things, from a person's social history, their family history, legal history and physical health history, as well as their mental health history," said Montana. "If they've had previous diagnoses or hospitalizations, it's getting a snapshot of what their life looks like." Montana collaborates with a licensed independent mental health practitioner (LIMHP) as needed as this is one part of the training and clinical supervision provided by Community Alliance to individuals who are provisionally licensed and are working toward their full licensure.
"Everyone who is enrolled in our day rehabilitation program, has a severe and persistent mental illness and often times the symptoms impact their daily functioning. The comprehensive assessment helps us to get to know them better and what their strengths and needs are coming into the program." 
What Drew Montana to Community Alliance
"All I knew is that I wanted to help people. I wanted to serve them. I wanted to provide them with the resources and the second chances they deserved in order to actually live their life and not just survive through life. I feel like living and surviving are very different things. Early on in my educational career, I was deciding between studying law or pursuing a counseling degree. When I met with someone who was already in the professional field, she mentioned that what I was describing sounded more like social work," explained Montana as she spoke about her choice to pursue her passion. 
Her goal was, and continues to be, to help people live the best lives they can with the resources that are available to them, sometimes resources they don't even realize are out there. This goal is similar to many of the passionate employees working at Community Alliance and aligns with Community Alliance's overall mission and values. Having these shared values, goals, and passions makes it possible for employees like Montana to do such demanding work every day. 
"We eat lunch together and we are constantly sharing stories. Yes, we're here to work, but we've also created something deeper. We're not just coworkers. We are doing the things that we need to get done while learning more about each other. We have each other's backs and we're able to lean on each other, which is really important," Montana shared about her Community Alliance co-workers. 
What keeps Montana dedicated to pursuing her career at Community Alliance? "I would say my coworkers are probably number one. If I didn't have that support from them, I don't think I would be able to handle the workload. I get to bounce so many ideas off of them, and that's important to me." She added, "I would say the second thing is the clients. I have been able to form deeper relationships with the clients, which is one of the main reasons I chose social work."
Pursuing a career in social work isn't for everyone, but for Montana, it is her calling. She stepped away from studying law to instead follow her heart. And so far, as a Licensed Day Rehabilitation Specialist at Community Alliance, it has made all the difference. 
Grow Personally and Professionally Every Day with Community Alliance
Are you ready to make a difference every day? To feel your positive impact every day? To pursue your passion every day? Learn more about f the open positions we are looking to fill with the right candidates: 
https://careers.community-alliance.org/careers/
Apply today through our website for available behavioral health jobs or by calling us at 402.341.5128. If you are looking for more than just a job, please consider applying.