Expanding access, reducing time to service: How the CCBHC model improves our quality of service delivery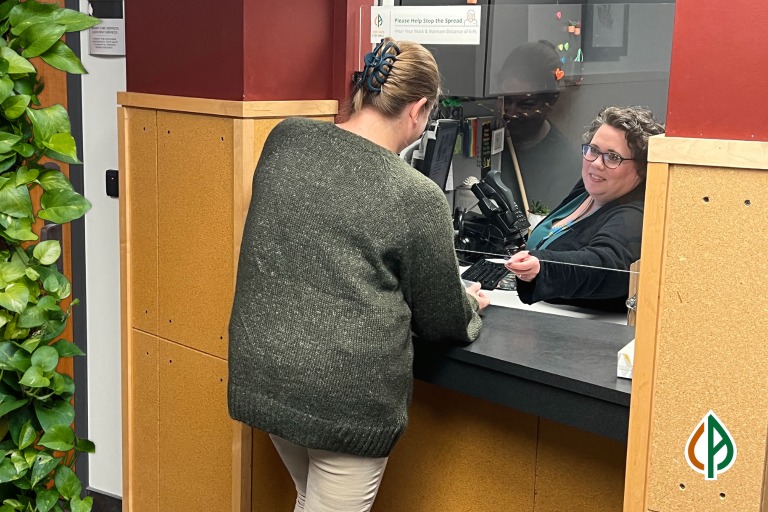 When people first come through the door at Community Alliance, they can walk right in without an appointment and meet with a member of the Rapid Response Team (RRT). A peer support specialist from the Rapid Response team will find out what the person is seeking, identify their needs and strengths, and discuss all the different services Community Alliance offers in order to match the right services and supports to their needs. Because of this process, there's "no wrong door," and people are never refused due to inability to pay.
"What is really unique and effective about Community Alliance is our 'no wrong door' and walk-in process with the Rapid Response Team," said Todd Reckling, director of integrated health care services. "When someone is having a crisis or has thought about it long enough that they're ready to ask for help, we have one chance to be there for them in that moment. Services need to be readily accessible and immediately available. The Rapid Response Team on our front end helps people walk right in without an appointment Monday through Friday. That's part of the accessibility under the CCBHC model — we want to make sure we are fulfilling the community needs with timely access to services."
Community Alliance is a Certified Community Behavioral Health Clinic (CCBHC), which is a comprehensive, integrated model of care that aims to improve service quality and accessibility to serve community needs. It includes a broad array of services and supports to help people in need of mental health care, substance use, physical health, rehabilitation and recovery services. 
"Community Alliance offers these services all in one place so individuals do not have to go to multiple locations and multiple providers to get their needs met," said Todd. "We believe in serving the whole person through a holistic care approach, so this model aligns with our mission and values. Mental health impacts physical health, and physical health impacts mental health."
Since beginning operation under the CCBHC model in late 2021, Community Alliance's intake process has grown even more robust. "I have seen people really struggle to ask for help, sometimes taking an hour just to walk in the building," said Jessica Brown, the rapid response team supervisor. "Through our intake process, individuals can be connected to every service in the organization in one sitting, and we try to make it as seamless and painless as possible. By the time they leave their intake, connections are made, appointments are scheduled, and an ongoing care coordinator is introduced."
Organizations that operate under the CCBHC model not only work internally to coordinate services among various programs but also collaborate with other organizations and systems of care. Community Alliance offers most of the nine categories of services under the CCBHC model on site and collaborates with community partners to offer the other services.
One of the approaches that differentiates Community Alliance from other providers is care coordination. Clients are assigned a care coordinator who works with them to advocate, collaborate, coordinate, engage and navigate through their different appointments and services, synthesizing the various components to create a seamless treatment plan. Care coordinators also help clients meet their basic needs for safety, shelter, food and connectedness to family, community and other resources and public benefits.
Community Alliance's future headquarters will further support our CCBHC model of care by allowing us to expand our service capacity, reaching community members who are underserved or unserved in their mental, substance use and physical health care needs. With a growing staff, larger physical space and expanded services, we will be able to serve up to three times as many people as we can today, providing easy and timely access to care. Regardless of the need, Community Alliance will be there to serve all people. 
"We have served the community for over 40 years, and now we are moving to a new location and expanding," said Jessica. "Change can be scary for some people, but with our caring approach, CCBHC model and holistic care team, this change is necessary so we can better serve the community and those who need us more than ever."