Breaking the Silence 2022 with Actor Sean Astin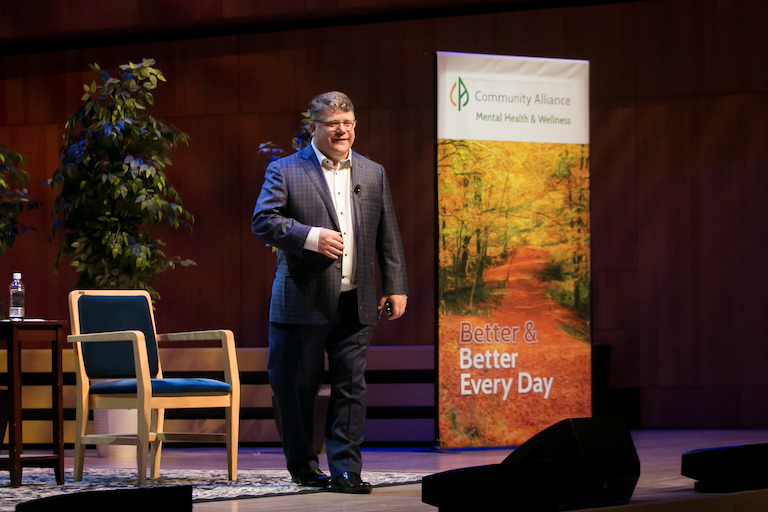 Leading by Example
Let's have open conversations about mental health.
For 26 years, that's been the motivation behind Breaking the Silence, our annual event to promote mental health awareness and advocacy in our community. Breaking the Silence means talking openly and honestly about mental illness, and fostering a culture supportive of those who courageously ask for help.
It's also an opportunity for Community Alliance to gather our greatest champions and advocates — our donors, board members, staff, volunteers, community partners and policymakers — and celebrate their impact. 
On October 11, more than 600 advocates joined us at the Holland Center for a special evening with beloved actor Sean Astin (The Goonies, Rudy, The Lord of the Rings trilogy, Stranger Things). 
With love and candor, Sean delivered a message of hope as he spoke about his mother, Academy Award-winning actress Patty Duke, and her struggles with bipolar disorder. Diagnosed in her thirties, Duke spent the following decades as a tireless advocate for mental health awareness. 
In continuing her legacy, Sean urged everyone in attendance to use their own voices to build awareness for Community Alliance's person-centered approach to mental health and wellness. 
The event capped a wonderful day with Sean that began with a private reception for individuals currently receiving services at Community Alliance. Over 150 clients attended and participated in an engaging dialogue with Sean. They shared with him their own experiences and perspectives on mental health care.
His message to them: Continue to speak up. Talk about your struggles. Ask for help. 
"The only way we can change anything," he said of combating the stigma around mental illness, "is to lead by example."
Building Toward Better
In her welcoming remarks at Breaking the Silence, Community Alliance CEO Carole Boye spoke about the extraordinary impact our new headquarters project will have on our work. 
Citing the night's theme — Better and Better. Every Day. — she encouraged attendees to consider the possibilities of a community aligned to address mental health needs at every level.
"Better and better means more than a new building," she said. "It means being guided by and using best practices. It means growing our team and continuing to be innovative and responsive in the development of services that make a positive difference. It means being intentional in providing first-class customer service in every aspect of our operations. It means that when people summon the courage to ask for help, Community Alliance is there."
And that starts with conversation.
With talking openly about mental health care. 
With breaking the silence.