The Challenge of Recovery in Challenging Times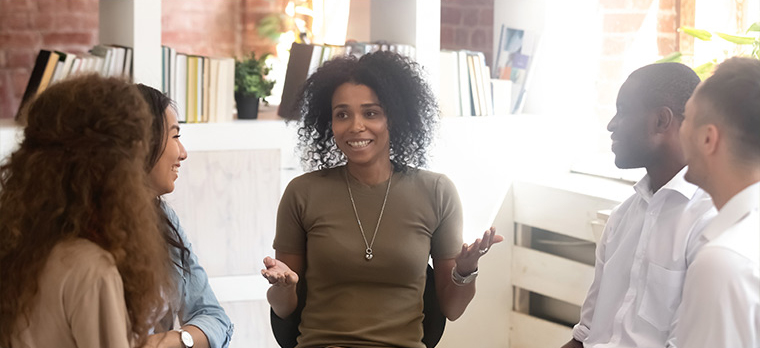 According to the National Institute on Drug Abuse, nearly half of those who experience a mental health disorder during their lives will also experience a substance use disorder and vice versa. And substance use problems have shown to occur more frequently with certain mental health conditions, including:
Depression
Anxiety Disorders
Schizophrenia
Personality Disorders
Add to this the trauma of facing a worldwide health crisis, economic insecurity and political and racial discord – and those already dealing with mental health issues and substance use may also be struggling with suicidal ideation.
The Perfect Storm
Mental health and substance use disorders share some underlying causes – including genetic vulnerabilities, early exposure to stress and trauma and changes in brain composition.
"The perfect storm is the combination of stress and anxiety surrounding all we're dealing with in the world right now, in addition to the mental health conditions a person may have," explained Aileen Brady, Community Alliance Chief Operating Officer. "Then, when you add in substance use, which lowers inhibitions and impulse control, risk for suicide is greater because impulses are decreased due to the substance use. There may be an obvious awareness on the part of the individual or an impulsive decision fueled by substance use. Or, maybe it's hopelessness over a period of time and the person experiences loss of relationships or loss of a job because of their substance use." 
"Many of our clients have expressed that when they are using, it has allowed them to feel something," Brady continued. "The symptoms of the illness may mask their feelings, or their medication can lower their emotional responses, then the substance use elevates emotions and they feel good for a while. When they come off of that substance the pain returns and they don't feel better," Brady added.
Recovery is a Personal Journey
Recovery starts with awareness that recovery is necessary and achievable. And every person has their own goals and path to recovery. Mental health recovery is never linear. It's not even a simple step-by-step process. It involves a continual focus on wellness, consistent work and steady growth. And while it may include occasional setbacks, every misstep or relapse offers an opportunity to learn. 
Active Recovery Includes:
Overall Health – Managing mental health and substance use disorders means making healthier choices that support overall wellbeing – including regular sleep, eating better and becoming more active, as well as abstaining from use of alcohol, illicit drugs and non-prescribed medications.
Stable Home – A safe, stable living environment.
Life Purpose – Meaningful daily activities, the means to support independence and resources to participate in society.
Supportive Community – Positive and supportive family and friends can help lighten the burden throughout life's challenges. People with strong networks of social support tend to handle stress better and to remain healthier and happier. 
Together, We Can Build Resiliency
Those with mental illness should not be defined by their mental illness. In fact, most people with behavioral health disorders do get better. Mental illness is a chronic disease and recovery is a process of finding the right balance in life – it's a personal journey towards wellness and stability. With help, symptoms can significantly improve or even disappear altogether. Recovery can involve any combination of therapy, medication and learning and initiating healthy choices that are meaningful. This does not necessarily mean that someone is "cured", but active recovery can make a life-changing difference.
Stay Positive – When life becomes challenging, it is important to set positive intentions and engage in positive self-talk. Focus on your strengths and accomplishments and minimize setbacks and areas of weakness.
Grow in Emotional Awareness – During difficult times it's easy to become overwhelmed by anxiety and overcome by emotions. Understanding why you are upset can offer valuable insight about what needs to change. Journaling can be helpful to this process. 
Know the Difference Between Powerlessness and Control – Although we're often powerless over life's circumstances, how we choose to respond to these circumstances is within our control. Knowing the difference is half the battle. Know when to let go. Know when to take action. And know when to ask for help.
Reach Out for Support – People with strong networks of social support tend to stay happier and healthier throughout life and tend to handle stress better. Supportive and positive friends and family can help lighten the load when a challenge is faced.
Don't Give Up – When disappointments come, keep your focus on working through them. Remember that you are not alone. Help is within reach. It's always okay to ask for help.
We believe in your potential for recovery. And we support your efforts through our programs and services. Call Community Alliance for hope and help.