Breaking the Silence in 2020 is more important than ever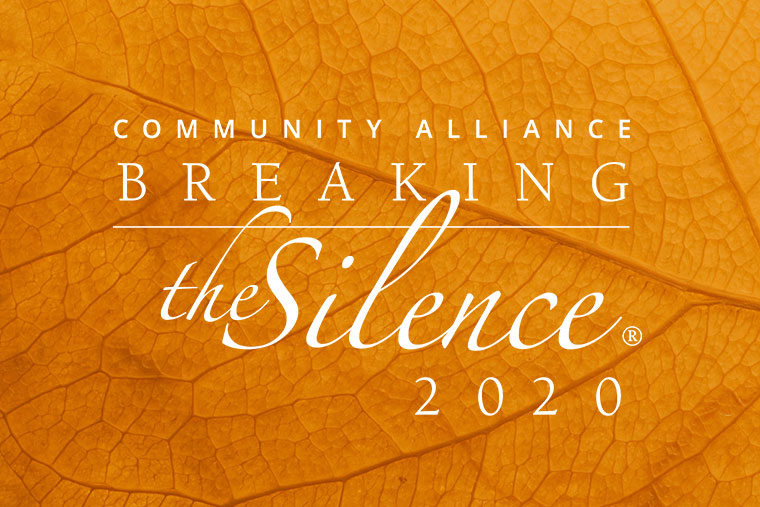 Now in its 24th year, Community Alliance's annual Breaking the Silence education and fundraising event, and those the event serves to support, face new challenges. Due to COVID-19, there will be no in-person event this year. Yet, there is an ever-increasing number of individuals and families in great need of mental health support, primary care services and more. Many are struggling to have their basic needs met. These times have been particularly hard for those most marginalized, including those who already struggle with mental illness. But Aileen Brady, Community Alliance Chief Operating Officer noted that even those who haven't struggled with mental health issues previously may find themselves facing challenges that impact their mental welfare and economic security. "Breaking down the stigma of mental illness is even more important during the pandemic," added Carole Boye, Community Alliance CEO. "We need to get out the word that it is okay to ask for help."
COVID-19 brings rising mental health concerns
The pandemic has sky-rocketed the number of individuals struggling with social isolation, job insecurity and the prospect of losing housing. The overwhelming impact has resulted in increased:
Anxiety, depression and other emotional impact
Substance use and relapse
Suicide attempts
A history of Breaking the Silence.
Community Alliance began as the first psychosocial rehabilitation agency in Nebraska – committed to dealing with the daily living needs of people impacted by mental illness, beyond what traditional mental health centers were able to offer. Over the years, the Breaking the Silence event has brought high-profile speakers, like former first lady Rosalynn Carter, actress Mariette Hartley, Olympic figure skater Dorothy Hamill, baseball legend Daryl Strawberry, folk singer Judy Collins and actress and neuroscientist Mayim Bialik – to name a few. All have shared their story of the negative impact of stigma and misinformation about mental illness and the importance of services that can lead to recovery. While this year will not support a live event, it still impacts lives in an important way.
Breaking the Silence today.
Breaking the Silence supports Community Alliance in serving over 3,000 adults with mental illness in the metro Omaha area and surrounding counties each year. "We want to help people with mental illness to live more meaningful, purposeful lives," Boye stated. "In addition to raising funds during this time of significant need, our goal for Breaking the Silence is education, advocacy and most importantly, advancing the hope and the reality of recovery. We are continuing to break down the walls and barriers of stigma that have held people back from asking for and accepting help."
Make a contribution. Make a difference.
When you support Breaking the Silence, you enable Community Alliance to continue the important work of dispelling the myths which still surround mental illness. And now, more than ever, your contribution helps extend and sustain the services of Community Alliance including supportive housing, rehabilitation services, individualized vocational and community supports, homeless outreach and transition services, peer services, family education and more.
Every contribution helps those most in need with:
Hope and healing from anxiety, depression and trauma
Much-needed medical care, to help keep struggling families well
The stability of transitional housing to avoid homelessness
The empowerment of education and vocational assistance for a better quality of life
The need for advocacy and action is greater than ever.
The need for advocacy and action is greater than ever. No one needs to struggle in silence. Please continue to support Breaking the Silence with your generous contribution.
If you are struggling, Community Alliance can help. We offer a full range of treatment, rehabilitation and support services including psychiatric care, counseling, rehabilitation, recovery services, primary care and more.