COVID-19 Update: Prevention is Still Your Best Defense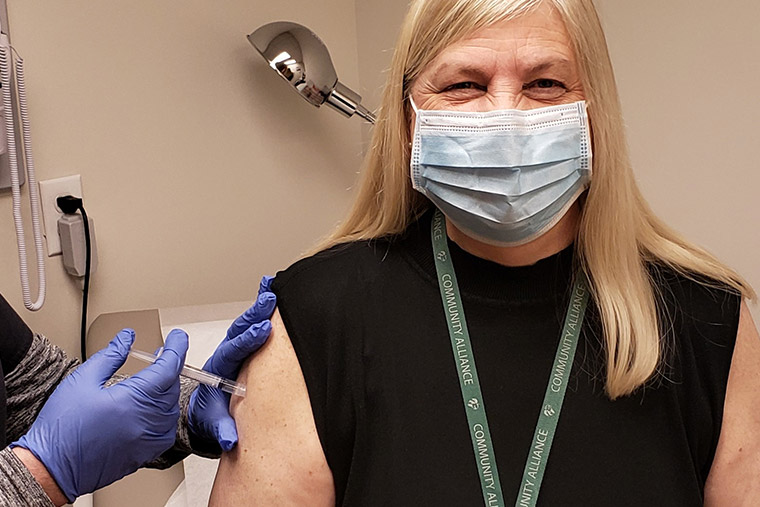 A year ago this month, we were just hearing about a new virus that was spreading across the country and the world. Now, just 12 months later, 29 million people have been infected by COVID-19 in the U.S. and more than 500,000 of our citizens have died.
At Community Alliance, doing our part to follow a strict COVID-19 prevention plan and protect the health and safety of those we serve, our staff, volunteers, colleagues and community, has been of paramount importance to us – and it continues to be each and every day. That is why we have and continue to follow CDC and public health guidelines, wear masks, maintain physical distancing and sustain enhanced cleaning protocols. It is why we have provided over 5,000 hours of COVID-19 education and skills training related to the pandemic to clients over the past year and continue to offer many of our services virtually as well as face-to-face. It is also why we are publishing this blog – to remind everyone to rigorously adhere to safeguards still in place and encourage vaccination when available and your turn.
At Community Alliance, over 50% of our staff have already been vaccinated and we are seeing those numbers rise every day as it becomes available. We are also working hard to aid clients in receiving the vaccine.
A recent study published by JAMA Psychiatry indicated that people with schizophrenia are nearly three times more likely to die from COVID-19 than those without the psychiatric condition. Prevention remains the best defense against this pandemic, especially for those at high risk including those living with serious mental illness. Please do your part in protecting them, yourselves and those you love and care about by reviewing and practicing the following guidelines as we all look forward to returning to some sense of "normalcy" in the months ahead.
COVID-19 Prevention: How can I protect myself and others
1. Get Vaccinated
Vaccination is the best protection for you and your loved ones in the fight against COVID-19. The Biden administration recently reported that it has secured 200 million more doses of the vaccine which would mean the country will have enough to cover 300 million people by the end of the summer.
For updated information on COVID-19, as well as the latest vaccine information, visit Finish Strong Nebraska. You can also register for the COVID-19 vaccine from the Finish Strong page.
2. Wash Your Hands
Wash hands with soap and water for at least 20 seconds and/or use hand sanitizer, before you eat or prepare food, and after you sneeze, cough, blow your nose or visit any public place. If you cannot wash with soap and water, use hand sanitizer containing at least 60% alcohol. And, wash your hands when you first leave your house and when you arrive back at home.
3. Practice Social Distancing
Stay at least six feet away from others while in public, even if they don't look ill.
4. Mask Up
Wear an appropriate face covering. And be sure to wear it over your mouth and nose to protect yourself and those around you.
5. Avoid Touching Your Eyes, Nose and Mouth
The coronavirus can last up to several days on some surfaces. You can become infected if you touch these surfaces and then touch your eyes, nose or mouth.
6. Disinfect Common Surfaces
Clean and disinfect surfaces and objects that are frequently used:
Phones
Door handles
Light switches
Countertops
Remote controls
Avoid the 3 C's
Close Contact – Practice social distancing, mask up and wash your hands.
Confined Spaces – Avoid confined spaces with poor ventilation
Crowded Places – Don't gather in groups where you can't maintain social distancing.
Protect yourself and protect others.
Stay Home If You Are Sick
If you feel sick, stay home and away from others. Most people with mild symptoms can recover at home. Call your doctor for any other symptoms that are severe or concerning to you. If you need to leave home to see your doctor, call ahead of time and avoid public transportation.
Seek Out Help If Feeling Anxious or Depressed
Public health actions, such as social distancing, are necessary to reduce the spread of COVID-19, but they can make us feel isolated and lonely and can increase stress and anxiety. The CDC recommends the following as helpful in dealing with such feelings.
Take care of your body.

Take deep breaths, stretch or meditate.
Continue with routine preventive measures (such as vaccinations, cancer screenings, etc.) as recommended by your healthcare provider.
Get vaccinated with a COVID-19 vaccine when available.

Make time to unwind. Try to do some other activities you enjoy.
Connect with others. Talk with people that you trust about your concerns and how you are feeling.
Connect with your community- or faith-based organizations. While social distancing measures are in place, try connecting online, through social media or by phone or mail.
Call Community Alliance or another healthcare provider if stress gets in the way of your daily activities for several days in a row.
STATE HOTLINE for COVID-19 Information: (531) 249-1873
Toll Free: (833) 998-2275
8AM – 8PM CST – 7 Days a Week:
Find Ongoing Support at Community Alliance
We offer a full range of integrated health services including primary and psychiatric care, mental health and substance use counseling, rehabilitation and employment services, supportive housing, community, family and peer supports, and more. If you are struggling with the challenges presented by COVID-19, we encourage you to reach out to our staff. We are here to help you thrive.