From Chef to Counselor: A Journey of Compassion at Community Alliance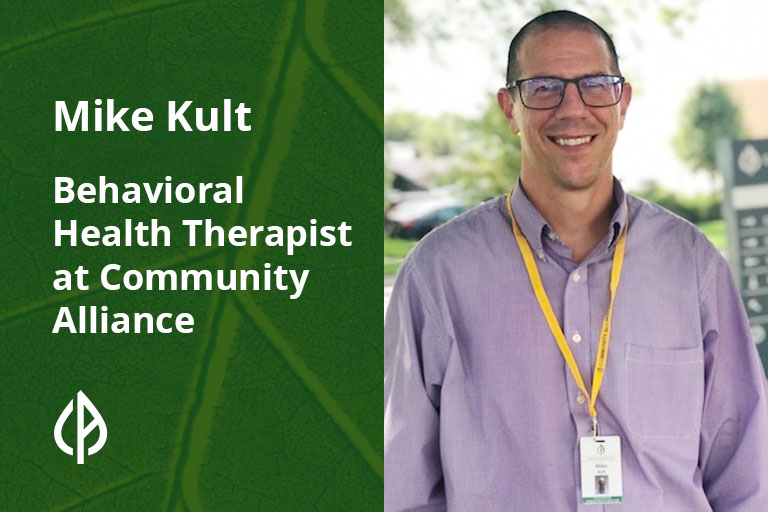 We live in a world where career paths often follow predictable trajectories, but for some individuals, their career journey is not a straight line. Mike Kult, a Behavioral Health Therapist at Community Alliance, transitioned from a budding career as a chef and business owner to a counselor at an integrated health care clinic.
After spending decades in the culinary world, where he honed his skills and engaged with the community through various food-related initiatives, Mike found himself looking for something more fulfilling. He recognized that his true passion lay in helping others on a deeper level. "I guess there was a day where I put those pieces together and realized that maybe I have developed some skills through meditation practices that could be of service to others," said Mike about his career epiphany. This mid-career revelation led him to change trajectories and pursue a more fulfilling career path with support from Community Alliance.
Mike's Calling to Become a Behavioral Health Therapist
How did Mike make the leap from his food-related ventures to working at a non-profit agency? It wasn't something that happened all at once. Through his culinary job, he had been working with different non-profits and agencies to tackle food insecurity issues and coordination problems within the food industry. And it wasn't until Mike took some time to reflect personally on his own happiness and goals that he began to put the pieces together.
Mike realized his journey in meditation and personal growth mirrored many psychological and counseling techniques. This realization sparked a desire within him to channel his skills toward a career focused more on human connection and healing. With this idea in mind, Mike took off on a new path, pursuing a Master's Degree in Clinical Mental Health Counseling.
This decision marked the beginning of a journey that eventually led him to an internship at Community Alliance, where he gained valuable experience working with clients with complex needs and where he started to form meaningful relationships with the integrated health care team.
"Coming to this as a second or third career actually gives me a real strength when it comes to working with the clients here. And because of how CA is organized, I have continual support to learn and grow, make mistakes with some safety nets, and continue on my personal journey while helping others on theirs," explained Mike about his time at Community Alliance.
Upon completing his master's program, Mike began actively seeking opportunities to use his degree in a way that allowed him to continue pursuing his passion for helping underserved populations, which led him straight back to Community Alliance. "Because of Community Alliance, I've found an opportunity to serve others with these new skills I've been developing."
"The thing that I've learned about the journey I'm on is that there's a lot of opportunity to continue to change and evolve as we age," said Mike about his unique path to becoming a Behavioral Health Therapist. From conducting therapy sessions with clients to tackling complex issues and challenges to collaborating with case coordinators, every day is a new and exciting opportunity for Mike to continue learning and growing.
It can be challenging to step out of your comfort zone to pursue something new, but for Mike, taking the leap has been rewarding, challenging, and meaningful – and it's a journey that is only just beginning.
Pursue What Makes You Happy Every Day at Community Alliance
Are you ready to make a difference every day? To feel your positive impact every day? To pursue your passion every day? Learn more about some of the open positions we are looking to fill with the right candidates:
Apply today through our website for available behavioral health jobs or by calling us at 402.341.5128. If you are looking for more than just a job, please consider applying.