Honoring the past, shaping the future of integrated health care: The history of Community Alliance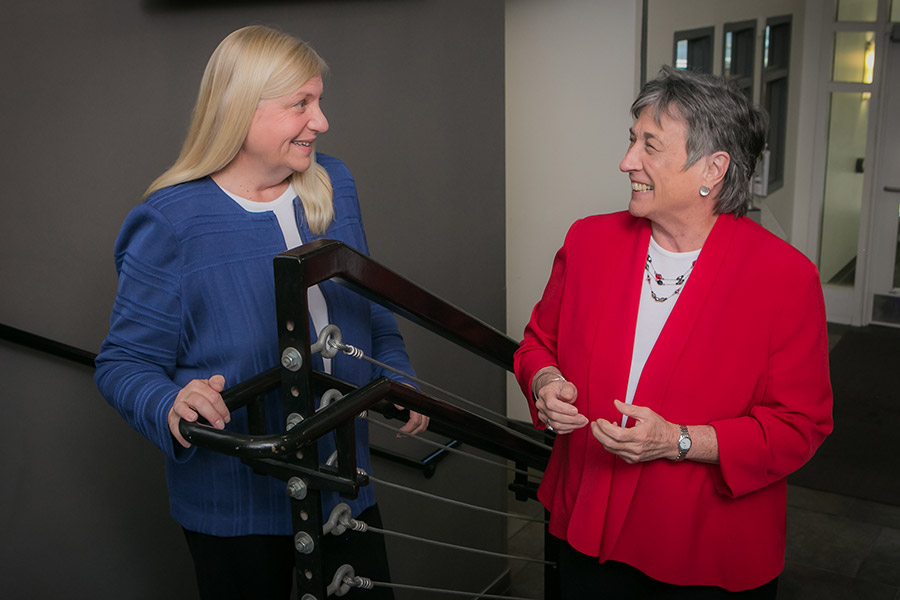 Living in such a fast-paced world can make it feel impossible to slow down and appreciate how you got to where you are. At Community Alliance, our history is an integral part of our everyday. Community Alliance has proudly played a vital role in the development of the community mental health system in the Omaha area, from our early days as a grassroots organization to our current position as a leading provider of integrated behavioral health care services. 
Community Alliance has been a bridge to the future for the Omaha community for over 42 years. As an organization, we've helped to build a stronger and more vibrant community where everyone has the opportunity to thrive. Community Alliance is committed to honoring the past while working every single day to shape the future. We are working to build a more equitable and inclusive community where everyone has the chance to succeed. It's the type of environment where people who are equally passionate about making a difference through their work can thrive and grow.
"Everybody needs a reason to get up in the morning. It's family, friends, purpose, meaning, and quality of life. All of those were part of the dream of those initial family members who founded Community Alliance so many years ago," said Carole Boye, CEO at Community Alliance.
Recognizing Our Roots in the Community 
"We were founded by family members who had adult children with serious mental illnesses. Their vision was to help individuals to live, work, learn, and contribute within the Omaha community. That has been our vision ever since," said Carole Boye.
In its early years, Community Alliance focused on providing case management, affordable housing, and other essential services to residents in the greater Omaha area experiencing a mental illness.  The organization helped families and their loved ones navigate various community resources so their needs could be met. 
From there, our team expanded, and we began to advocate for behavioral health reform and for expanded mental health programming to support a greater number of people, including those who were previously not being served and were marginalized in our community.  We also worked to grow our scope as an organization to include a broader range of mental health, substance use, primary care, rehabilitation, and other services, such as job training, helping those experiencing homelessness, and crisis diversion programs run by Peer Support staff. 
With the support of our dedicated staff, Community Alliance continued growing into the leading provider of behavioral health and integrated healthcare services within greater Omaha while continuing to advocate for affordable housing and other prevalent community issues. 
Reflecting on Community Alliance's history, Carole noted, "Growth takes off when you create services in response to a human need that has been identified. Not some theoretical need but a human need. And that's been our history." Getting the right individuals in the right roles within the organization make it possible to continue growing and helping the community we serve. 
Community Alliance was the first free-standing community mental health rehabilitation program in Nebraska and the first in Omaha to go beyond traditional treatment and therapy to concentrate on what people with mental illness need to live, work and thrive at home and in the community. Because of this, we are often the first call for help, and that's not something we take lightly. 
Leaning On Our Legacy to Pave a Path Forward
Community Alliance is committed to honoring the legacy of its founders and the many employees and community members who have contributed to our success throughout the years. Our purpose and mission as an organization are only achievable through the countless individuals committed to helping us get to where we want to be. At Community Alliance, every volunteer, every team member, and every organizational leader inspires us to continue growing and serving our community to the best of our abilities.
As a team, we want to shape the future of the community by reducing stigma and making mental health services more accessible and more welcoming for all. This includes working alongside colleagues to assure greater equity and inclusion.  
In the coming months and years, Community Alliance is focused on various endeavors and projects that will help to further our mission and impact in our community: 
Expanding Supported Employment Services: Over the course of the next several years, we plan to help more individuals with mental health and substance use issues find and maintain employment. Work is seen as a crucial component of recovery and well-being, and our goal is to offer more people the opportunity to return to work.
"Healthy Transitions" Grant: As an organization we are embarking on a targeted effort to reach a younger population, focusing on individuals making the transition from adolescence to young adulthood. Community Alliance has secured a 5-year grant called "Healthy Transitions" to support this effort. This grant will be used to work with partners in Omaha to create programs and services tailored to the needs of this specific demographic.
Development of CCBHC: Community Alliance is a Certified Community Behavioral Health Clinic (CCBHC). This development has been a part of our organization's commitment to expand access to services and deliver comprehensive mental health care within the community while staying committed to meeting or exceeding national standards.
Continuous Learning and Training: As a team, we're dedicated to continuous learning and improvement. We aim to always be ahead of industry standards and to continually build upon best practices to give our clients the highest level of care. Both new and senior staff members are encouraged to stay updated on best practices and to contribute to the ongoing improvement of our integrated health care services.
In addition to all of these ongoing initiatives, Community Alliance is excited about the impact our new building will have on the care provided by our growing team. The new and expanded building facilities will help us follow through on our promises to our community and those we serve. It will provide an efficient, effective and beautiful space for delivering services and care to the community.
"I think the secret sauce is about listening to the people you serve and being responsive," said Aileen Brady, COO, when talking about what helps Community Alliance stay so committed. "That, to me, is the key because they know best what they need and what their families need. And if we will always stay true to that, it will remain our distinguishing characteristic."
How will we reach our goals for the future? By continuing to expand our team of integrated health care professionals with a passion for being first. First to recognize the growing needs within our community, first to help wherever and whenever it's needed, and first to respond when no one else will. 
Be Part of the Change Happening Every Day at Community Alliance
Are you ready to make a difference every day? To feel your positive impact every day? To pursue your passion every day? Learn more about some of the open positions we are looking to fill with the right candidates: 

Apply today through our website for available behavioral health jobs or by calling us at 402.341.5128. If you are looking for more than just a job, please consider applying.
Find Out if Community Alliance is the Right Fit for Your Rehab Career
Community Alliance is eager to hire qualified individuals for our open positions. If everything we have to offer sounds like a good fit for the next step in your career path, we invite you to reach out. In many cases, we can provide same-day interviews. 
Help is Within Reach
Community Alliance offers a full range of integrated health services, including primary and psychiatric care, mental health and substance use counseling, rehabilitation, and employment services, supportive housing, community, family, and peer support, and more.