Building a culture of teamwork and collaboration at Community Alliance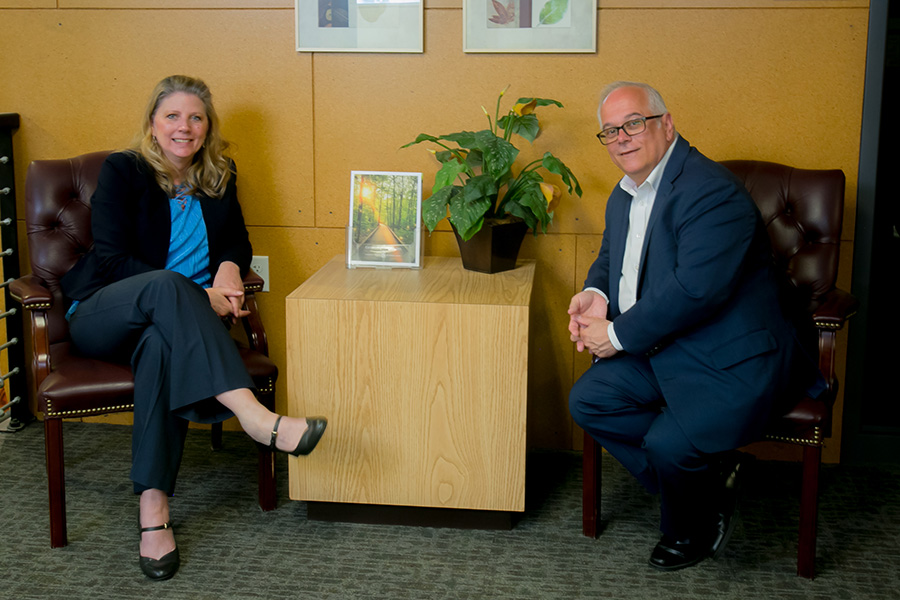 Left: Debbie Kohl, Community Alliance Human Resources Director. Right: Mike Losole, Community Alliance Recruiter.
A company's culture is intended to help break down barriers, guide decision making, and improve workflow. It's a way to set expectations and help people work together. But what role does culture play at Community Alliance?
The culture within healthcare organizations plays a significant role in shaping the well-being of both clients and staff. A welcoming culture in mental healthcare organizations can reduce burnout among staff, who often deal with emotionally draining situations on an everyday basis. It encourages collaboration among team members from various disciplines, enhancing the quality of care and improving outcomes for the individuals they serve. A nurturing and inclusive culture is the foundation for effective mental health care, promoting recovery, resilience, and holistic well-being for all involved.
Community Alliance's Approach to Candidate Engagement
Applying for a new job is never easy. While you might not be fully satisfied in your current position, it's hard to truly know if the grass is greener on the other side. Community Alliance understands this and does everything it can to provide an honest and up-front understanding of what day-to-day roles would look like for any available positions.
The success of Community Alliance's treatment and counseling services, mental health rehabilitation programs, and integrated health care services rests heavily on the commitment and dedication of the staff. Under the leadership of Debbie Kohl, the Community Alliance Human Resources Director, and Mike Losole, Community Alliance Recruiter, the organization focuses on finding the right candidates for the right positions.
"When someone applies to Community Alliance, it is an easy process," said Debbie Kohl. "The job description and the duties are out there. We try to explain the full story. And so, when they apply, Mike will give them a call almost immediately and help them feel welcome. He asks about their interests, passions, and what they seek in a new job. He goes through the story of who Community Alliance is, and we see if there's that passion, we see if there's alignment." This dialogue aligns the candidate's motivations with the Community Alliance mission, creating a sense of purpose right from the start.
"Job roles are thoughtfully tailored based on individual strengths and passions, creating a workplace where each staff member can thrive and contribute effectively," added Debbie. "By establishing this connection and ensuring that the candidate's values align with the organization's mission, we can attract individuals who genuinely want to make a difference –– not just hold a job."
Attracting and Retaining the Best at Community Alliance
In the competitive world of healthcare, attracting and retaining top talent is a priority for organizations like Community Alliance. Benefits play a pivotal role in this endeavor. As Debbie explains, "Benefits are very personal to every person. It means something different to each candidate." As an organization, we aim to cater to individuals' needs through competitive health insurance, dental, vision, tuition assistance, and retirement plans. Community Alliance offers quick eligibility for health benefits on the month following 30 days of employment, and we do everything we can to ensure new employees don't have to wait long for essential coverage.
To keep our existing employees happy and engaged, we offer a variety of recognition programs, such as the coveted black lanyard, which is awarded to employees after six months of service. We also have, as a part of our recognition program, an opportunity for team members to give a special shout-out and/or a thank-you to each other for their exceptional efforts. These programs help to build genuine camaraderie and ensure our employees feel appreciated, recognized, and valued.
Nurturing Well-Being, Engagement, and Effective Communication
Community Alliance prioritizes the well-being and mental health of its staff while concurrently fostering a sense of purpose and engagement among its employees. Additionally, as an organization, we recognize the importance of feedback and communication in creating a supportive work environment tailored to individual strengths and passions.
To emphasize our culture of compassion and support, we offer a variety of resources and programs. We help our staff thrive in our demanding work environment through:
Employee Assistance Program (EAP) to provide confidential support for a variety of personal and professional challenges
Open communication about burnout and mental health to create a safe and supportive environment for discussing these issues
Monthly education and training sessions to inspire employees and provide them with the skills and information they need to succeed
A culture that values fulfillment and purpose and encourages employees to bring their whole selves to work
Understanding generational differences in communication to ensure every staff member feels heard and understood
Active listening from the top down to build trust and rapport
Tailoring job roles based on individual strengths and passions to help employees feel engaged and fulfilled in their work
We believe that by investing in the well-being of our staff, we are creating a more productive and successful workplace for everyone.
While all of the resources and programs available to staff can prevent burnout and ensure they feel supported, Mike still believes nothing is better than seeing their hard work make a meaningful impact. "I know it sounds corny, but at the end of the day, going, wow, I think we made a difference in our clients' lives. We've seen people get better."
In today's dynamic job market, skilled healthcare professionals enjoy an unprecedented array of choices to align their abilities, goals, and talents with the perfect workplace. At Community Alliance, we have long prioritized the importance of recruitment. With heightened enthusiasm, we are enhancing our initiatives to attract and cultivate an environment that resonates with the most talented and dedicated mental health professionals who value teamwork and our supportive organizational culture.
Favorite Food
Debbie – French Fries
Mike – Chinese

Favorite type of weather
Mike – Fall
Debbie – I like a good snow storm

Favorite animal
Mike – Dog
Debbie – wants a little farm – a duck, a donkey, a bunny, and dogs
Fun Fact – Did you know Debbie had a pet squirrel growing up? His name was Squirty

Did you have a Nickname?
Mike – Mikey
Debbie – My best friend was Bobby Joe so they would call me Deborah Jean

Do you collect anything?
Debbie – Pennies, I have every penny (except for 3) from as far back as 1900
Mike – No, but my wife would say 'he collects books'; I don't ever get rid of a book!
Find Out if Community Alliance is the Right Fit for Your Rehab Career
Community Alliance is eager to hire qualified individuals for our open positions. If everything we have to offer sounds like a good fit for the next step in your career path, we invite you to reach out. In many cases, we can provide same-day interviews.
Help is Within Reach
Community Alliance offers a full range of integrated health services, including primary and psychiatric care, mental health and substance use counseling, rehabilitation and employment services, supportive housing, community, family and peer support, and more.