Behavioral Health Accreditation: A Commitment to Credibility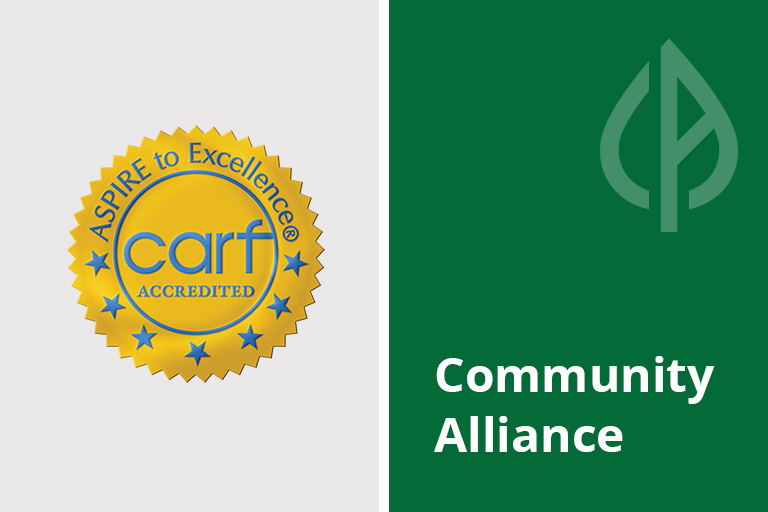 At Community Alliance, we put a lot of emphasis on what makes us unique. We take a person-centered approach to wellness, unlike what you might find at other integrated healthcare facilities. But, while we focus on our unique approach that provides a greater level of healing and wellness, we are also fully committed to providing consistency and credibility across all of our programs and services.
Our commitment to acquiring CARF accreditation for behavioral health isn't new. In the early years of Community Alliance, at less than ten years old, we were offering several programs and services that we felt needed the consistency and credibility that accreditation could provide. Seeking relevant accreditation that fit our mission and culture became an important part of our ongoing effort toward excellence. Community Alliance programs were accredited for the first time in 1992.
CARF Behavioral Health Accreditation Standards
CARF International, or the Commission on Accreditation of Rehabilitation Facilities, is an independent, nonprofit health and human services accreditor. After attending a CARF presentation, Aileen Brady, Community Alliance COO, said, "It was a match for what we were doing. While at that time, Nebraska did not require accreditation for community-based organizations, when we heard that presentation, we knew we wanted to move forward."
As one of Nebraska's early adopters of behavioral health accreditation, Community Alliance is proud of what being accredited means for our programs and the individuals we serve. "We adopted it for two reasons. One, the philosophy of CARF was to set a foundation for agencies like ours to get better at what we did. And two, it was impressive that the accreditation review was done by individuals currently working in the field. Because of this, they had a fresh and current perspective of what the work was really like," said Aileen Brady.
While accreditation is now mandatory by Nebraska Health and Human Services, it was beneficial that Community Alliance had already made accreditation such a huge part of their everyday philosophy.
CARF was and continues to be the best fit for Community Alliance because it is part of their philosophy to be person-centered. Instead of using only paperwork, policies or documentation to make their accreditation decision, they perform interviews with persons served, family members, referral sources, and staff throughout the organization. Since CARF surveys are done by people working in the field, they understand what's important and can independently view each program to provide relevant feedback. 
Through CARF, there are three potential outcomes for an agency like Community Alliance:
No accreditation – The organization has major areas for improvement and there are questions as to the benefits of services.
One-year accreditation – Although there are significant areas for improvement, the organization shows the capability to improve and is committed to making progress.
Three-year accreditation – The organization demonstrates substantial conformance to the standards, and persons served are benefitting from services. 
Community Alliance has consistently been awarded the three-year accreditation from CARF and, on multiple occasions, has received no recommendations on any necessary improvements that need to be made to our integrated health programs.
Community Alliance Behavioral Health Accreditations
Community Alliance is proud to be accredited in the following programs:
Assertive Community Treatment (ACT)
Community Integration (Day Rehabilitation)
Case Management (Community Support, SOAR and Homeless Services Program)
Supported Living (Community Alliance Apartments)
Community Housing (Residential Rehabilitation)
Health Home – (Integrated Services)
Outpatient Treatment – (Therapy and Med Management)
Crisis Services – Call Center – (Safe Harbor)
Community Employment Services (Vocational Program)
"We believe our accreditation provides credibility and impartiality related to service delivery and improves our efficiency and effectiveness. Our goal is to provide confidence for the people that we serve and their families that we have their best interests at heart and can effectively address their needs through our person-centered approach to integrated health," said Brady.
Help is Within Reach
Community Alliance offers a full range of integrated health services, including primary and psychiatric care, mental health and substance use counseling, rehabilitation and employment services, supportive housing, community, family and peer support, and more.