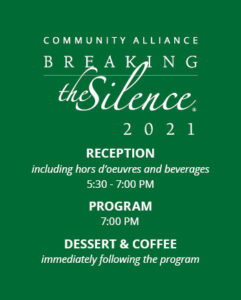 In 2005, David Sheff published Beautiful Boy, the story of his son Nic's battle with mental illness and drug abuse. The book, made into an award winning movie in 2018 starring Steve Carrell and Timothée Chalamet, chronicles in poignant and painful detail the ravages and sorrow of a young man's addiction and untreated mental illness and the hope-filled journey back, along with a father's struggle to understand, cope and do whatever he could to keep his son alive.
Now 38 years old and nearly 10 years sober, Nic is an author himself and  he and his father are working to reach young people and families facing a similar journey. Together, they speak to the complexity of mental illness and addiction and how the continuing stigma associated with these diseases is unlike other diseases, making individuals and families feel that they are alone even when help is available.
Community Alliance looks forward to welcoming you back to Breaking the Silence and the Holland Performing Arts Center on Thursday, October 7, 2021. We hope you will join us, along with David and Nic Sheff for what promises to be a memorable and hope-filled evening for individuals and families across our community.